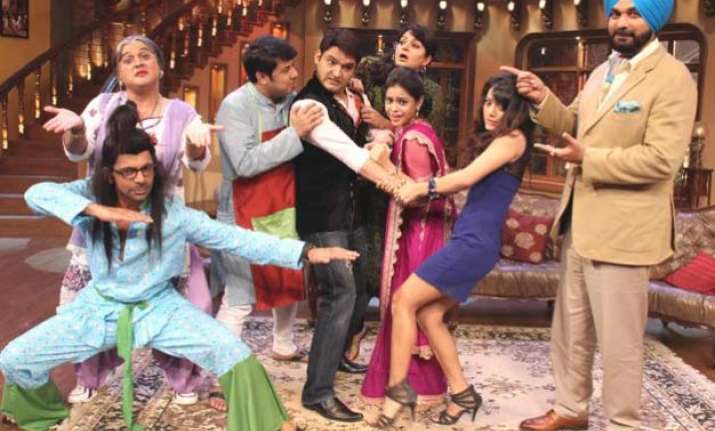 New Delhi: 'Comedy Nights With Kapil', which shot Kapil Sharma to instant popularity, aired its last episode on Sunday. The show, which Kapil also co-produced, saw a rather emotional end with all its participants reported to have been in tears over its abrupt end.
It is highly speculated that the tiff between Kapil and the channel Colors was one of the biggest reasons the show came to a halt. Nevertheless, Kapil doesn't regret it and says he feels blessed with the love viewers have showered upon him.
As the curtains are drawn on the show, we take you down a memory lane to relive some unforgettable moments. The combined effort of these punches made CNWK the show it was. Let's walk the lane together:
When Kapil welcomed the celebrities:
Kapil had a peculiar way of welcoming stars to his house. He used to first sing praises for the star and they add, "To kya aapne kabi socha tha ki aapko Comedy Nights With Kapil me aane ka mauka milega?"
Daadi's kiss:
Ali Asgar, who played Daadi, did not spare any male star who entered the house. Just like Kapil's sense of humour, Daadi's pappi on the cheeks of all male stars made it a worth-watch.
Guthi's introduction:
Sunil Grover aka Guthi made sure no one was left unaddressed. Guthi introduced each and every member of the family to the stars and sometimes did not even leave objects.
Guthi's song:
If you know, 'Aap aayein hai humare ghar me, phool khile hai gulshan gulshan'  by heart; you know what we are talking about.
Palak's weight:
Actor Kiku Sharda played many roles on CNWK, but Palak was the most loved one. One has to give it to Palak for sportingly taking all the jokes hit at her.
Manju's lips:
Before superstar Salman Khan dedicated minutes on television talking about Gizele Thakkral's lips on Bigg Boss 9, Kapil had already done it with his on-screen wife Manju played by Sumona.
Sidhu's shayari:
Navjot Singh Sidhu who was seen laughing his heart out in every second of the show, kept the enthusiasm high with his punches, most of which he prepared impromptu.
Viewers:
It is worth mentioning that CNWK would not have been half as lively it was in the absence of the viewers. With the show, fans got a chance to interact with their favourite celebs. They asked questions, danced and even sang for them; making the show a memorable one.