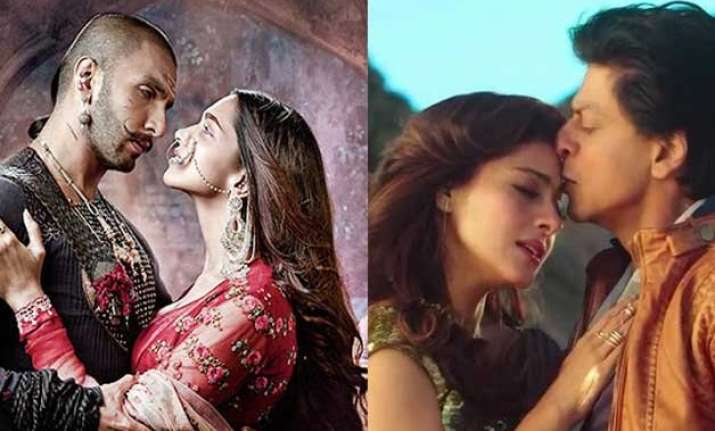 New Delhi: 2015 ended on a high note with one of the biggest clashes of Bollywood. Two biggies, 'Dilwale' and 'Bajirao Mastani' confronted each other at the ticket window.
The Rohit Shetty's family entertainer took the lead at the start of the battle but Sanjay Leela Bhansali's historical love-saga comfortably took-over the former and emerged as the clear winner.
Both the films had a free run of 21 days as no other Bollywood film released for 2 weeks. The first film to release after the clash is 'Wazir' which hit the theatres on 8th January.
We have compiled a day-wise list of collections of both the films from 18th December to 7th January:
| | | |
| --- | --- | --- |
| Day | Dilwale | Bajirao Mastani |
| 18 Dec (Fri) | 21 cr      | 12.80 cr |
| 19 Dec (Sat) | 20.09 | 15.52 cr |
| 20 Dec (Sun) | 24 cr | 18.45 cr |
| 21 Dec (Mon) | 10.09 cr    | 10.25 cr |
| 22 Dec (Tues) | 9.42 cr | 9.40 cr |
| 23 Dec (Wed) | 8.79 cr | 9.21 cr |
| 24 Dec (Thurs) | 9.26 cr | 10.52 cr |
| 25 Dec (Fri) | 8.11 cr | 12.25 cr |
| 26 Dec (Sat) | 6 cr | 10.30 cr |
| 27 Dec (Sun) | 7.12 cr | 11.75 cr |
| 28 Dec (Mon) | 2.7 cr | 5.60 cr |
| 29 Dec (Tues) | 3.12 cr | 5.40 cr |
| 30 Dec (Wed) | 3.13 cr | 5.05 cr |
| 31 Dec (Thurs) | 2.38 cr | 5.35 cr |
| 1 Jan (Fri) | 3.41 cr | 7.50 cr |
| 2 Jan (Sat) | 1.90 cr | 6 cr |
| 3 Jan (Sun) | 2.40 cr | 7 cr |
| 4 Jan (Mon) | 1.13 cr | 2.30 cr |
| 5 Jan (Tues) | 1.02 cr | 2.20 cr |
| 6 Jan (Wed) | 0.83 cr | 2.05 cr |
| 7 Jan (Thus) | 0.78 cr | 2 cr |
| Total | 146 cr                 | 170.90 cr |