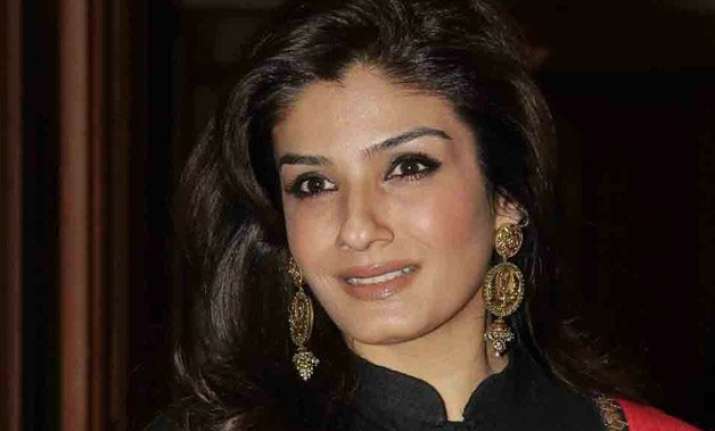 Yakub Memon's execution this morning has opened gates to fresh debates. What is worth noting is that the celebrities are making their opinions count as they join the heated discussions of who's right and who's not.
The celebs are changing and proving they are much more than the pretty faces we see on the silver screen.
Every angle associated with Yakub Memon's death has been extensively tossed, turned and made public. While some stars like Salman Khan, Naseerudin Shah and Mahesh Bhatt were seen supporting Memon through their tweets, or mercy petitions, there are celebs on the other side of the table too.
Actress Raveen Tandon and filmmaker Ashoke Pandit had clear statements where they supported the court's verdict. Raveena Tandon expressed her stand on the execution with this tweet, "So the debate whether death penalty should be abolished or remain, rages on. We live in dangerous times, attacks terrorism bomb blasts"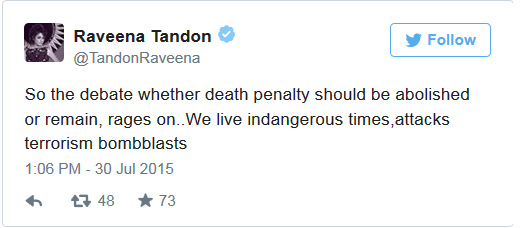 She also added, "To do away with it might make India look like a softer easier target State that it already has a reputation of already victims have to wait… For decades for the judgment…many of them not even live to see justice done... Cases, which are so transparent eg kasab etc-death penalty".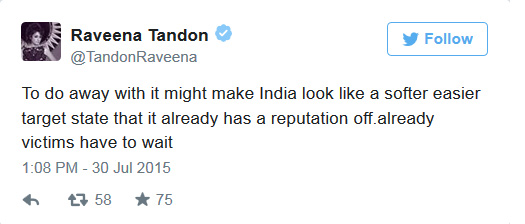 Filmmaker Ashoke Pandit was in favour of the same which got reflected through his tweet, :"For the victims of terrorism today is one of the finest days when V see one of our killers being hanged to death. #YakubHanged #VandeMataram."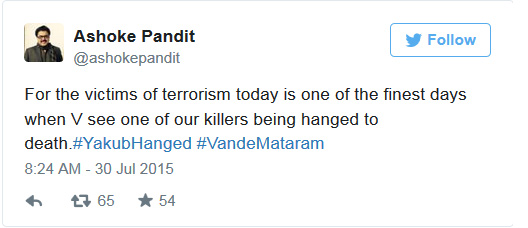 Taking sarcasm as his weapon to have his thoughts expressed, well known columnist Suhel Seth tweeted, "Isn't Digvijaya Singh in love? And if so why is he making the comments he is? Let love prevail."

Clearing his opinion on Memon's execution he later retweeted ANI's tweet on Azam Khan's statement. "Those supporting Yakub Memon are wrong and want to divide society: Azam Khan, SP".

Raveena Tandon was also in limelight a few days ago owing to her tweet on the Gurdaspur attacks, where she tweeted this, "One terrorist caught alive!! Hope human rights activists and liberals now don't demand biryani to be served to him !! #hangthe.........."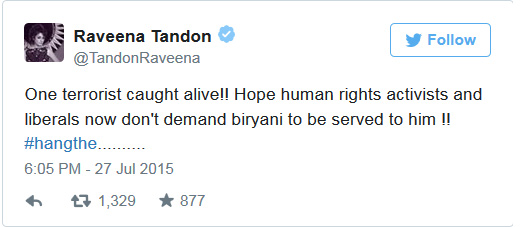 The actress received positive responses on this tweet of hers although the person deemed as terrorist was a home guard who took shelter in the police station to safeguard his life from the fierce bullets.
It is good to see that celebs are talking their mind on serious issues without worrying about the flak they would get. With the celebs joining the debate, we get to witness a wider perspective.