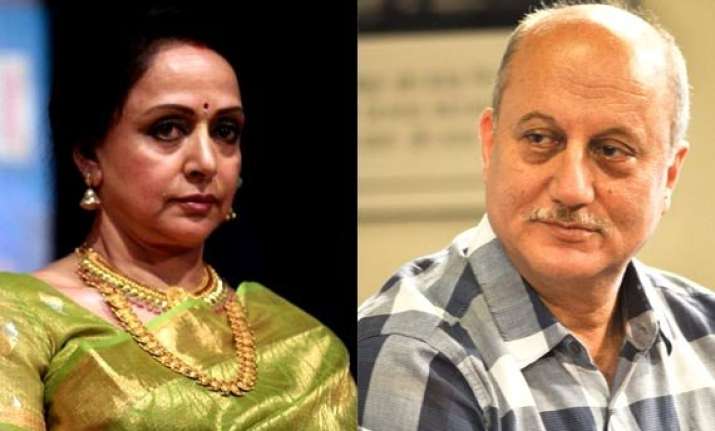 Mumbai: The Hindi film fraterntity Wednesday lauded the Bharat Ratna being conferred on former prime minister Atal Bihari Vajpayee and late freedom fighter-educationist Pandit Madan Mohan Malaviya. While melody queen Lata Mangeshkar called them 'gems of the world', actor Anupam Kher said the honour is an apt tribute to them.
Vajpayee and Malaviya were named for India's highest civilian honour Wednesday ahead of their birth anniversaries Thursday. Vajpayee was born in 1924 and Malaviya in 1861.
Here's what the celebrities tweeted following the government's announcement regarding the Bharat Ratna:
Lata Mangeshkar: Greetings. The Indian government today announced Bharat Ratna for Madan Mohan Malaviya ji and Atal Bihari Vajpayee ji. I'm very happy with the news...according to me, they are gems of the world. My father used to tell me good things about Madan Mohan Malaviya ji and fortunately, I have had several opportunities to meet Atal Bihari Vajpayee ji.
Madhur Bhandarkar: Two stalwarts & deserving sons of soil ATALJI & MALAVIYAJI who toiled to make India proud, have been conferred d #BharatRatna! Many congrats.
Hema Malini: With great joy I heard that Atalji along with Madanmohan Malaviyaji have been selected to receive the Bharat Ratna, the highest civilian award
Vishal Dadlani: Atal Bihari Vajpayee, the last true statesman we've known. Bharat Ratna, well deserved! Current govt. should aspire to rise to his level.
Anupam Kher: Bharat Ratan to Madan Mohan Malviya ji & Atal Bihari Vajpayee ji is d Ultimate tribute to these dynamic leaders. Shat shat Pranam. Jai Ho.
Riteish Deshmukh: Bharat Ratna Shri Atal Bihari Vajpayee : one of the tallest leaders of India - truly deserves this honour - legendary orator & statesman.