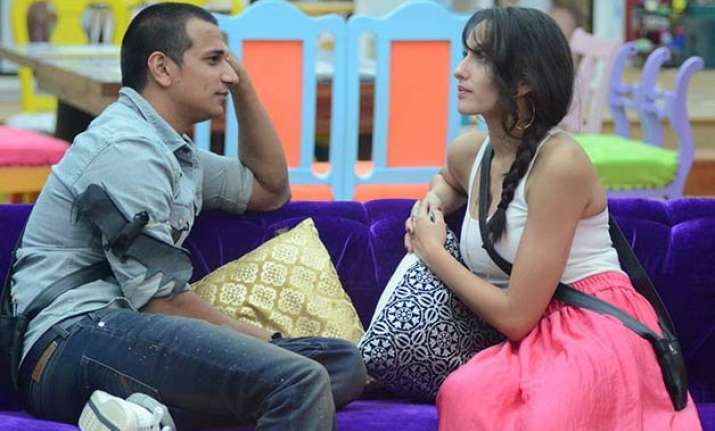 New Delhi: Prince Narula might have won the ninth season of Bigg Boss 9, but it seems the jinx of winning the show has begun.
Prince raised a lot of eyebrows when he had proposed Yuvika Chaudhary and later Nora Fatehi on the national TV.
While none of the ladies accepted or rejected his proposal, he got stuck in an awkward situation when both Yuvika and Nora re-entered the house.
It was then that Prince cleared his stand and chose Nora over Yuvika. In fact, he even announced that he is in a relationship with the Moroccan beauty post his win in BB9.
But it seems that Nora doesn't coincide with Prince and vehemently denied saying she is not dating Prince Narula and is completely single.
"Forget about a relationship, we are not even dating! I made it very clear to him and everyone on multiple occasions inside the house that we are not a couple and that we will see what happens once the show is over. And he understood this. We haven't even discussed our status and haven't spent time together to even take such a step as he has just come out of the house. Yes, we are fond of each other. I did not respond to his proposal or his love letter in the house," Nora told a leading daily.
She further added, "I have always maintained that when we are outside the house, only then will we be able to figure out how we truly feel about each other. It's only been a few days since the finale, which is hardly enough time to decide whether we are in a relationship or not. So, I don't understand why such statements are being made. He is a very good friend. I respect him and he will always have my support. But I don't believe in spreading misconceptions. I've always kept him in the loop about my statements regarding us outside the house, so for him to make such an announcement is quite shocking. It just contradicts everything I have said to him and everyone else regarding us from day one. I stand by what I have said. He's a good friend and I'm very happy he won. I wish him all the best".
Nora also mentioned that she would be the first one to announce about her relationship with Prince. "I am single. If I ever get into a relationship with Prince, I will be the first one to announce it to the world. For now, I'm busy putting all my energies in work," Nora was quoted saying.
This is bound to be a heart-breaking news for Bigg Boss 9 winner Prince Narula.