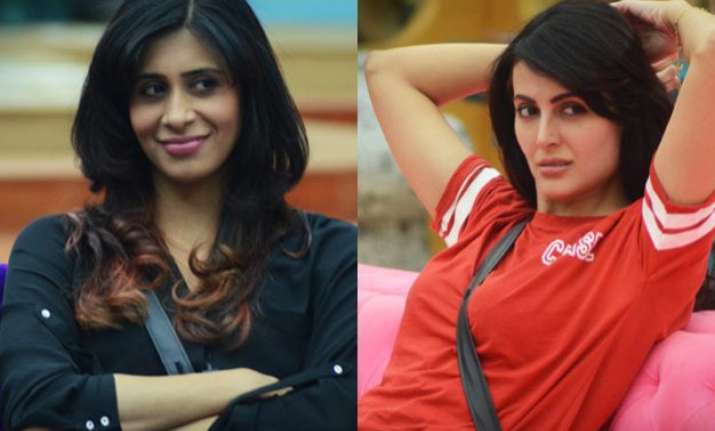 New Delhi: In the reality TV show Bigg Boss the enmity between co-contestants Kishwar Merchant and Mandana Karimi was one of the highlights of the show. The show hosted by superstar Salman Khan is airing its ninth edition and recently Kishwar got evicted from the show.
Post her eviction, Kishwar has said that she looks forward to hanging out with the Iranian beauty outside the show.
Kishwar's elimination happened during a task and not on the basis of audience's votes.
The 34-year-old "Kaisi Hai Yaariyan" actress said Mandana is fake inside the Bigg Boss house and she hopes to know the "real" Mandana once the show ends.
"I have said since the beginning that Mandana is fake on the show. She herself said once that this is not her true behaviour and she is very different in real life. So, you
never know Mandana and I might become best of friends once we meet outside. I look forward to knowing her," Kishwar told PTI.
"Mandana cried a lot during my eviction. I told her I will not keep grudges against her. Whatever happens in the house, stays there. There wouldn't be anyone from the house, whom I won't meet after the show finishes."
In a first for the reality show, the actress got evicted after she stood second in the 'Ticket to finale' task, which has been won by Prince Narula.
The task had a condition under which the one, who presses the buzzer first, will have to leave the house with a specific amount of cash prize.
Though she called her eviction "unfair", Kishwar said she felt Prince has a bigger fan following, hence a better chance of winning the trophy, so she decided to press the buzzer and leave the house with Rs 15 lakhs.
"My eviction has to be the most unfair till now. I worked so hard from past 13 weeks and gave my best in the task just to get evicted in the end. I did not want to leave. My aim was top 5. But I budged because I felt Prince had a better chance.
With inputs from agencies