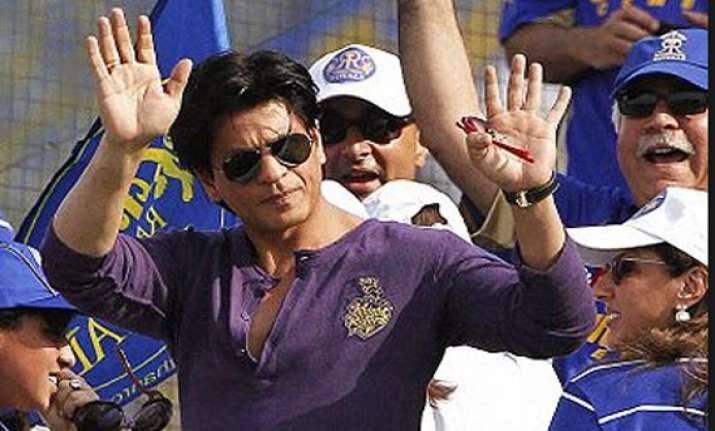 Mumbai, June 8: Bollywood megastar Shah Rukh Khan has lashed out at people indulging in betting on cricket, and said police should catch them and punish them all.
In an interview to Hindustan Times, SRK was asked whether he was ever approached by a bookie. He replied:  "..whatever the enticement may be, I would never indulge in something like this. Betting is a disgusting habit.
But I am no one to say that. It's a Rs. 40,000 crore habit. And they should catch them all and punish them. Having said this, it doesn't mean I'm judging others.'
On Rajasthan Royals co-owner Raj Kundra's reported confession that he had been indulging in betting, the mega star said: "He is Shilpa Shetty's husband and she was one of my first heroines. I am very close to them. Raj is a friend. He doesn't need it.
"I'm sure he will fight this battle legally and something will come out of it.
These are claims of bookies which need to be verified. I don't think bookies should be believed the moment they take a name."
On being asked whether he ever gambled: "I am not a betting person. I take risks which are real.
Not risks which are fixed. Even when sometimes we play with friends during Diwali, which is again a small amount of Rs.100, it's all done in fun. I don't take the money, even if I earn from it.
"I'm Islamic about a few things. I've never taken illegal money or interest, or as we call it haram ka paisa.
I have never loaned out money as a business. I am very clear about it."
Asked whether Bollywood has been under the scanner in the IPL betting controversy, Shah Rukh said:  
"Anyone who bets or encourages people to fix matches whether from Bollywood or anywhere else is utterly disgusting! It's wrong.
And I truly believe in that because you are encouraging people to fix matches.
When I go to play a match and if I lose and my daughter cries and if that match is fixed, then I want to beat the shit out of it."
Asked about his opinion on the controversy as an IPL team owner, Shah Rukh Khan said: "As a team owner, I don't appreciate what's happening.
As a proud person and a sports lover, I think if you are on the game, apni film ki ticket black nahin karna chaiye. Hum toh nahi bechenge, kisi aur ko karna hai toh karne de.
"I think as a team owner one should not indulge in all these practices even if you are a betting person by nature.
If you're an owner, you're aware of all the rules and the loopholes and it's undignified to misuse them.
"If you're a traffic cop, you should try not to jump the signal even in your private car. The attitude shouldn't be 'kisiko malum nahi hai chal na nikal le'."
The actor was guarded when asked about the option of legalizing betting. He said: "A lot of things can be legalised in India but I think betting is something that has never been pertinent.
I think we should somehow control the parallel economy. I mean black money and cash. It could be a choice exercised which eventually could do away with the illegal part of betting and the country can earn a lot through tax."