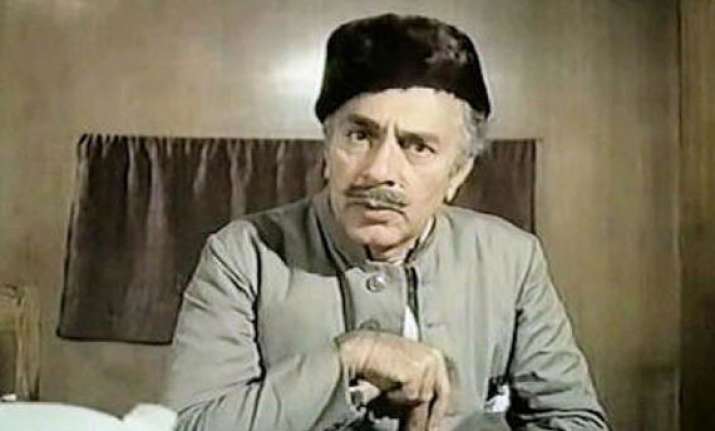 New Delhi, May 20 :  The famous last line 'Insaan kab tak akela jee sakta hai' in M S Sathyu's landmark Partition film 'Garm Hava' was actually contributed by its lead actor Balraj Sahni.
The screening of 1973 classic's restored version closed the 8th Habitat Film Festival last night and also marked Sahni's birth centenary in a fitting tribute to the actor who was behind iconic films like 'Kabuliwala', 'Do Bigha Zameen' and 'Dharti ke Lal' among others.
Ironically, Sahni could never see 'Garm Hava', considered his best performance by many, as he died just the next day after finishing the dubbing on the movie.  "Balraj Sahni was a true professional and focussed on doing his part well in the movie. The last line 'Insaan kab tak akela jee sakta hai' (How long can a human being survive alone?) that comes just before the Urdu couplet was by Sahni.  
It was not part of the original script," Sathyu said.  'Garm Hava' also starred Shaukat Azmi, Geeta Siddharth, A K Hangal and Jalal Agha as supporting cast.  Kaifi Azmi and Shama Zaidi adapted the screenplay from a short story by Ismat Chughtai. It also marked the debut of Farooq Sheikh.
The story deals with the plight of a North Indian Muslim family immediately after the Partition. Film's protagonist struggles with the dilemma of whether to move to Pakistan or stay back as he witnesses his business and family disintegrate before him.
Sathyu said the film stirs him even today.  "Even after 40 years I get as emotionally overwhelmed as I used to when I was making the film. People ask me about its relevance today and I say the problems between the two countries still exist," Sathyu said after the screening.  When asked whether the film played any role in solving the problem, the 80-year-old director said an artist's work was to "provoke conversations" and not necessarily solve it.  "My film is only an art work through which it can provoke a conversation on a subject matter that needs attention in a society, and that's the role of a filmmaker," he said.  Now digitally restored, the film is a visual treat for cinema lovers as its show Taj Mahal, Fatehpur Sikri, Salim Chisti's shrine and the busy bylanes of Agra bazaar as they were 40 years ago.
"The film was digitally restored in Mumbai in a lab and the sound was remastered into a Dolby and surround format in Los Angeles, thus enhancing the visual and acoustic quality.  Its print was not in a very good condition," Sathyu told PTI.  Talking about the challenges he faced while shooting the movie on a shoestring budget in crowded streets of Agra, Sathyu had interesting stories to share.  "We shot the film in 45 days and normally for a film like this it should take 30 days or so. Shooting in crowded streets of Agra was a concern but we managed it well. And, we shot everything on location. I'm glad that now after restoration people can see the beauty of Agra and Fatehpur Sikri as we had shot it back then," the director said.
Though the film couldn't get an immediate release in 1973 in India, it was selected for Cannes Film Festival in 1974. It was also Indian entry to the Academy Award for Best Foreign Language Film  and won the National Award for Best Feature Film on National Integration.
"The film was not released in India immediately. It first played in Paris. And, then it came to Bangalore and later travelled to Bombay, Delhi and north India," Sathyu said.