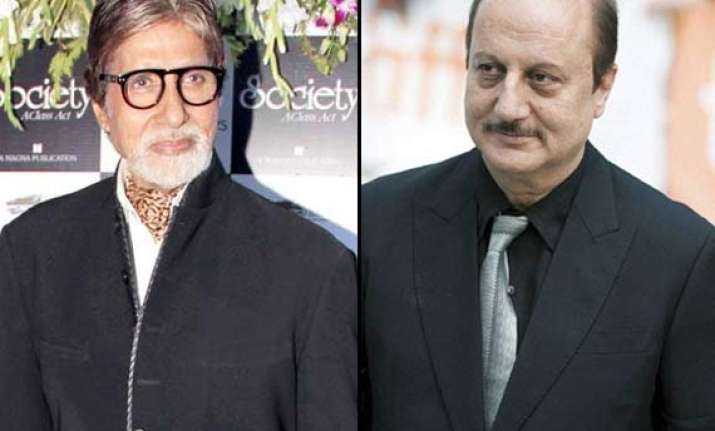 Mumbai: On the auspicious occasion of Dussehra Friday, Bollywood celebrities like Amitabh Bachchan, Anupam Kher and Karan Johar wish for love, light and happiness.
The festival of Dussehra is celebrated across the country and signifies the victory of good over evil.
Here is what the stars tweeted:
Amitabh Bachchan: Vijay dashmi ki anek anek shubhkamanayein aur badhai ..Happy Dushehra !
Anupam Kher: Happy Dusshera to All. Love, Peace, Happiness & Harmony.:)
Karan Johar: #HappyDussehra to all...love light and positivity to everyone....
Abhishek Bachchan: Aap sab ko Dushera ke shubhkaamnaein (Wish you all Happy Dusshera)
Madhur Bhandarkar: Celebrate the victory of the forces of good over Evil. Lets celebrate an auspicious day to begin new things in life....HAPPY DUSSEHRA!!!!
Bipasha Basu: Shubho Bijoya and Happy Dusshehra to all:)
Kailash Kher: Aap Sab Ko Dassehra Ki ShubhKamnaye, Buraayi Pa Achhayi Ki #VijayDashmi,(Wish you all Happy Dusshera, win of good over evil) May Our Country n People be D Happiest, Prosperous, #HappyDussehra
Sidharth Malhotra: #HappyDussehra guys....Miss being in delhi for this festival n going to see firecrackers n Ravan effigy being burned, may b next time...
Varun Dhawan: Don't build happiness on the sorrows of others, don't climb the stairway of success over the failures of others. do good.#HappyDussehra
Arbaaz Khan: Happy Dussera to all!!!
Sunidhi Chauhan: HAPPY DUSSERA TO ALL :)
Shraddha Kapoor: Choose good over evil . Happy Dussehra !
Dia Mirza: Ego, cruelty, lust, greed, anger, jealousy, injustice, selfishness, conceit and attachment are all vanquished by Durga Shakti. #HappyDussehra
Riteish Deshmukh: Happy Dussehra my friends
Sophie Choudry: Happy #Dusshera everyone! May good always triumph over evil!