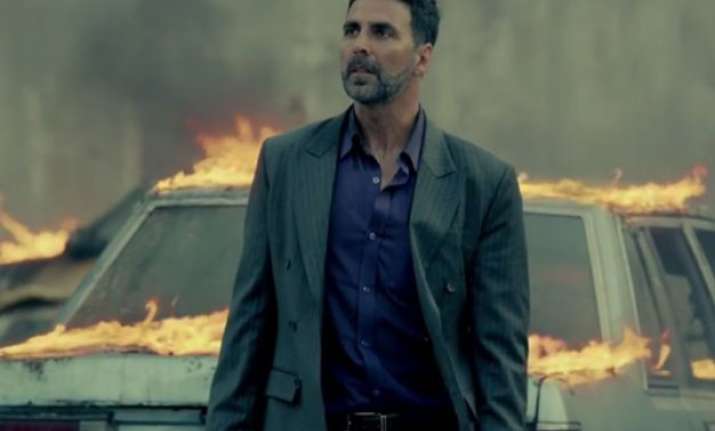 Cast: Akshay Kumar,Nimrat Kaur,Kumud Mishra, In-aamulhaq
Rating: ***(3/5)
Director: Raja Krishna Menon
It's a daunting task for a director to tell a big story based on real life events in an efficient manner without losing sight of its entertainment value
As it often happens, actual events weaved into a multi-dimensional story often fail to connect with people. Airlift, on the other hand, is not one of those films. Airlift is a sincere effort by debutante director Raja Krishna Menon who has succeeded in striking just the right balance between history and drama.
Airlift is a celebration of the largest civil evacuation of all time. It involves a daring evacuation of more than 1,70,000 Indians stranded in Kuwait and a staggering 500 air trips in the midst of the Gulf War.
Ranjit Katyal (Akshay) plays a no-nonsense businessman in Kuwait with a strong dislike for Bollywood music and some disdain for India also. However, things take an ugly turn after Iraqi forces invade Kuwait city unleashing a reign of utter chaos and terror.  
With destruction and death at every step, Ranjit is shaken to the core; the nightmarish event awakens his humane and patriotic side. He turns his office into a refugee camp and goes to extreme lengths to ensure the safe passage of his fellow countrymen to India.
On its part, Airlift succeeds in effectively portraying the panic and anxiety of a city in turmoil. It's an achievement for cinematographer Priya Seth who has deftly captured the middle-east, delving into some of the finer details. Also, with the right mix of impressive aerial shots and cramped handheld bits, Seth has set a new benchmark for Bollywood.
Despite a great story and the fine cast, Airlift remains inches away from becoming an engrossing experience. The screenplay gets a little shaky at times but some great work by the stellar cast lifts the film out of its dull moments. One of the major drawbacks in the film is the phony accent of the Iraqi General played by In-aamulhaq. The character feels more like a typical caricaturised villain of Hindi cinema than for real.
Besides, the climax will surely leave you with a lump in your throat.
Among the cast, Akshay stands out for his measured and skilled performance. He dabbles effortlessly into various emotions while keeping them understated. Akshay's character in the film is an amalgamation of two expatriates who masterminded the whole rescue mission.
Nimrat Kaur, who plays Akshay's wife, has not much of space to etch her character too far, besides a sequence of an outburst.
Purab Kohli is also effective in his portrayal of a man who in search for his wife in the ravaged city. Prakash Belawadi plays a pigheaded old man, one who only creates problems at times of crisis and deserves kudos for successfully getting into the nerve of not only the characters but the audience too.
But the man who needs a special mention here is Kumud Mishra. His role as a bureaucrat is small but a significant one. His effortless demeanours and spirited efforts that convince an otherwise lethargic Indian system makes this film a great watch.
Airlift is a must watch for it brilliantly balances history with humour and never goes overboard. It is also a tribute to the efforts of a few local businessmen and Indian diplomats who took on this valiant task of bringing their people home.
It's that kind of a serious drama that leaves you smiling despite a lump in your throat just in awe of the fact that everything gets pulled off in the end.