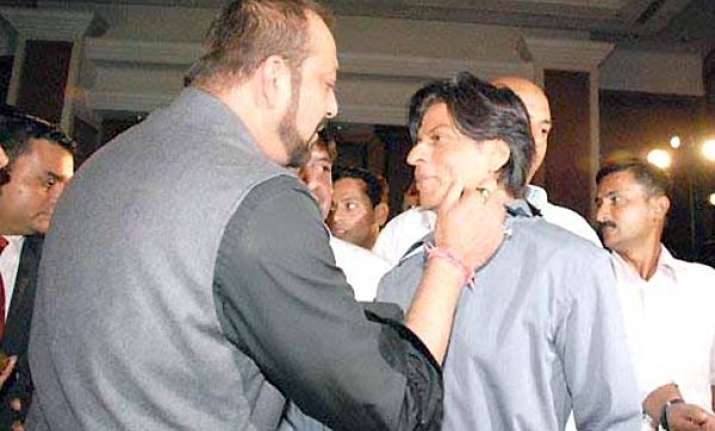 Bollywood star Sanjay Dutt loves to ride two boats at a time, or so it seems. Hardly had the after-effects of the explosive party with Salman Khan  at Sanjay's residence waned, Dutt hosted Shah Rukh Khan and his wife at his residence on Sunday to celebrate wife Maanyata's birthday.

Dutt didn't (or couldn't?)  invite Shah Rukh to his wife Manaayata's surprise birthday party on Friday night, but on Sunday night  Dutt and Manaayata hosted an  exclusive dinner only for Shah Rukh and his wife Gauri. The party was also attended by Karan Johar, Hrithik and Susanne Roshan, Arjun and Mehr Rampal, all from SRK camp.

Says a source close to the Dutts, "Sanju is extremely fond of SRK and felt very upset that he couldn't invite him for Manaayata's party too.

"Now Mana and he have decided to host an intimate get together for only Shah Rukh and Gauri Khan, Hrithik and Sussanne Roshan and Arjun and Mehr Rampal at their Bandra residence.

"Sanju believes that he should be friends with everyone and belong to no camps - a policy he has maintained for the last 25 years.

"Manaayata's birthday party gave the impression that he wasn't as close to SRK when that wasn't the case so Sanju decided to invite Shah Rukh and his friends separately."

Last week Dutt threw a surprise birthday party for wife Manaayata along with sister Namrata at her Bandra residence. While Salman and Ajay Devgn were invited Dutt had to leave out Shah Rukh with whom he has worked with and done a cameo in Ra.One as Dutt wanted to avoid a confrontation between Shah Rukh and Salman.

Recently Shah Rukh even gifted Dutt a bike for his work in the film. But few know that as Dutt couldn't invite SRK to the birthday party he felt bad about it.