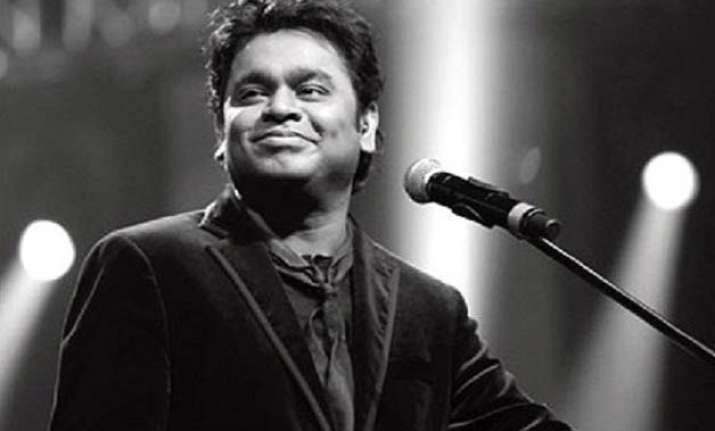 Music legend A R Rahman is undoubtedly one of India's most renowned icons
Born on on 6 January 1967, Rahman has been able to achieve what very music composers have achived in their entire lifetime.
Lately, he has become the face of Indian music through out the world. Even in the film industry, he is the only music composer who rules both Bollywood and south Indian music scenes.
Married to Saira Banu, the couple has three children, Khatija, Rahima, and Ameen.
In an career spanning over 25 years,Rahman has not only mesmerised the world with his exceptional music but also won hearts with his grounded nature.
As Rahman turns 48 today we bring to you 21 lesser known fact about the maverick
1) Rahman was earlier, Dilip Kumar, he later embraced Sufi Islam after coming in connection with Qadri Saheb, a sufi mystic .
2) Rahman had admitted in an interview that he never liked his name 'Dilip Kumar'. It was a Hindu astrologer who gave Rehman his Muslim name.
3) Rahman's father--R. K. Shekhar, was a film-score composer and conductor for Tamil and Malayalam films. Rahman has said that his father had a little picture of Lata Mangeshkar on his wall, he composed music after looking at Latajee everyday.
4) As a kid, he was seen in Doordarshan's Wonder Balloon where he got popular for being the kid who could play 4 keyboards at once.
5) AR Rahman's debut track for Roja was listed among TIME's "10 Best Soundtracks" of all time, in 2005.
6) In 2009, Time magazine added him in its list of World's Most Influential People !
8) In 2009, Rahman's soundtrack for Laagan was ranked at No. 45 on Amazon.com's "The 100 Greatest World Music Albums of All Time" list.
9) Airtel's signature tune, composed by Rahman, is the world's most downloaded mobile music with over 150 million downloads.
10) A street in Markham, Ontario, Canada, has been named in his honour in November 2013.
11) The French TV commercial for Volvic starring Zinedine Zidane in 2000 featured a sample from Rahman's theme song for the movie Bombay .
12) He is also the first Asian to have won 2 Oscars in the same year!
13) Apart from Slumdog Millionaire, Rahman has provided great scores for other Hollywood movies such as 127 Hours and Lord Of War.
14) Rehman's Chaiya Chaiya has been used in Denzel Washington starrer Inside man.
16) He has won 2 academy awards, 2 Grammy awards, a BAFTA Award, a Golden Globe,4 national awards, 15 Filmfare awards and 14 Filmfare awards south, as of 2014. In fact, out of a total of 138 award nominations, he has won 117!
17) Rahman wanted to become a computer engineer as electronic gadgets and technology fascinated him but soon he realized that his true potential lies in music.
18) A.R Rahman was a keyboard player and was part of a band with his childhood friends Sivamani, John Anthony, Suresh Peters, Raja and JoJo. The group made a rock group in Chennai named Nemesis Avenue.
19) Rahman has worked with the likes of Mick Jagger, Dave Stewart and Joss stone as part of Superheavy.
20) Rahman and his son, Ameen share the same birth date, that is 6th January!
21) With record sales of more than 200 million albums worldwide, A R Rahman has composed the soundtracks for over 100 Indian films