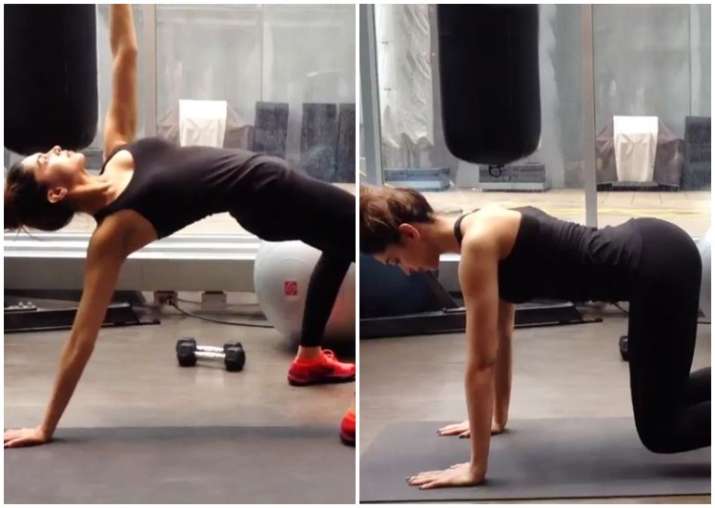 Deepika Padukone is on cloud nine these days as the world is praising her role of Padmavati in Sanjay Leela Bhansali's magnum opus Padmaavat. Not only this, Deepika has many other reasons to celebrate, one of which is to be the queen of  Rs. 200 crore box office club with the recent success of "Padmaavat". 
Apart from this, Deepika Padukone, who is also known for her superb dance skills has her perseverance and dedication for fitness that is hugely responsible for her flexible moves in the songs, for example- Ghoomar.
The Piku actress who has been training under celebrity Yasmin Karachiwala was seen performing a difficult exercise - the Swan Drive. Yasmin took to her Instagram page on Monday to share a video of Deepika Padukone doing the Swan Dive on the reformer at Body Image. She wrote: "#MondayMotivation at its best with Deepika Padukone doing the #SwanDive on the #Reformer.
In the video, Deepika is seen lying on her tummy on the Pilate machine, wherein, she pushes her body weight back and forth with her arms and legs pushed straight in the air. 
The Swan Dive workout is known to strengthen your back muscles, activating the glutes and a workout that challenges your core.
Check out Deepika Padukone's #SwanDive workout:
Just a few days back, Yasmin had shared one of Deepika's workout video on her Instagram. "Who says #Motivation only happens on #Monday!!!!!! @deepikapadukone can motivate you anyday raising the bar to her own #fitnessgoals constantly. Watch her do the #FerrisWheel on the #Trapeze effortlessly," she wrote.
Check out what she posted: 
On the professional front, Deepika Padukone is gearing up for her first film with Vishal Bhardwaj which also stars her 'Piku' co-actor Irrfan Khan.