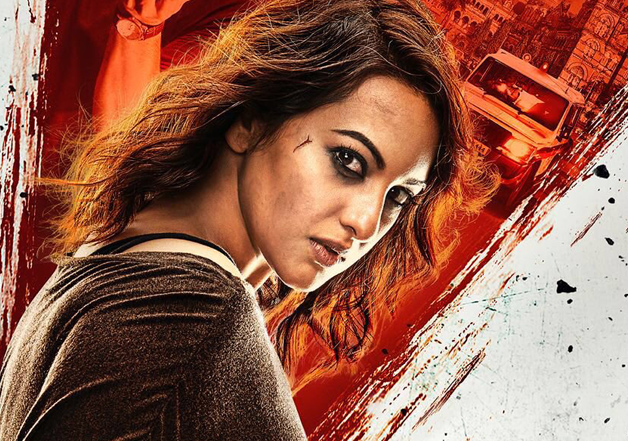 New Delhi: Actress Sonakshi Sinha, earlier today, revealed the first poster of her next movie Akira and managed to become one of the top trends on micro blogging site Twitter. In the poster, Sonakshi seems to make a striking statement.
With a bruise on the cheek and dark kohl on her eyes, Sonkashi looks fierce. Set in a backdrop of red, the poster also gives a glimpse of actress Konkana Sen Sharma, who plays a pivotal role in the movie.
Check out the poster here:
She will fight back. No one will be forgiven! Heres the 1st poster of #Akira & more good news: #AkiraTrailerOnJuly4 pic.twitter.com/nkwiSsYGyL

— Sonakshi Sinha (@sonakshisinha) June 28, 2016
The poster also revealed that the movie's trailer will be released on July 4. The movie is helmed by AR Murugadoss and will see a September 2, 2016 release.
'Akira', is a remake of Tamil film Mouna Guru. The movie illustrated the life of a misunderstood college youth who unwittingly becomes involved in a crime plot that spirals his life out of order. While the protagonist in Mouna Guru was a male actor Arulnidhi, the Bollywood version of it has a female lead, Sonakshi.
Only time will tell if Sonakshi is able to pull off the role.
As for now, people on Twitter were impressed by the poster and had some wonderful things to say to Junior Shotgun. Have a look at the tweets:
after this whoever criticise sona & her acting abilites WILL NOT BE FORGIVEN 😏😎 #AkiraPoster

— ᴍ ᴀ ɪ . (@MaimoonFA) June 28, 2016
Eagerly awaiting For the Rocktar Dashing #Akiraposter

— Nick Shah (@MumbaiSmarty) June 28, 2016
As fierce as Akira @sonakshisinha #Akiraposter pic.twitter.com/auOahYqOBY

— shivani (@shivaniissar) June 28, 2016
Heyy Sona I am super supper duppeeerr excited to see the #AkiraPoster 🎉Can't wait to see your new movie loads of love❤️

— Sumaiya Tariq (@SumiNajeeb) June 28, 2016
@sonakshisinha #Akira I only wish u all love success 😍😍🤗 Sona U re The One of awesome Actress And it has been prove by Akira ..All d best

— Kritii🌸 (@cutiepiekritz) June 28, 2016