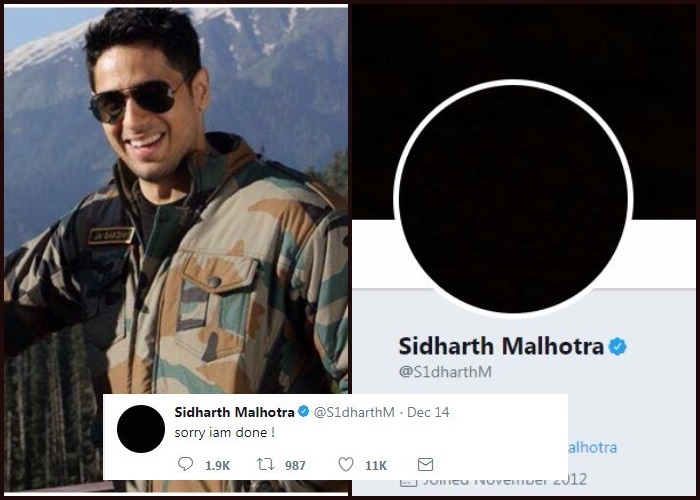 If you're not living under the rocks, you must be remembering how Sidharth Malhotra blacked out from Twitter leaving a cryptic tweet behind. On December 14, actor Sidharth tweeted, 'Sorry iam done!' and immediately after the tweet, his display picture turned black. This threw his fans into tizzy. Some even believed that his account has been hacked and the hacker is playing tricks on his fans. But the recent turn of events are giving a new twist to the entire Sidharth Malhotra Twitter blackout story.
Sid's Aiyaary co-star Rakul Preet Singh also tweeted on the matter. She tweeted: "Wait !! What is this ??Is everything alright @S1dharthM #SidsOffTheGrid".
Wait !! What is this ??😳Is everything alright @S1dharthM #SidsOffTheGrid

— Rakul Preet (@Rakulpreet) December 14, 2017
Her tweet would have sounded real and concerned had she not added the hashtag #SidsoffTheGrid, which surely has something to do with his upcoming film Aiyaary.
Soon, fans started speculating that all this Twitter circus was Sidharth Malhotra's marketing strategy to promote Aiyaary. This strategy, however, didn't go down well with his fans. Twitterati starting criticising Aiyaary team's marketing gimmick. Fans also warned the makers against this strategy backfiring them.
Another co-actor Pooja Chopra's tweet added fuel to the fire. After Rakul, Pooja tweeted: "Whatever it is @S1dharthM I am sure it can be talked about!! #SidsOffTheGrid."
Whatever it is @S1dharthM I am sure it can be talked about!! #SidsOffTheGrid

— Pooja Chopra (@Pooja_Chopra_) December 14, 2017
A Twitter user posted a screenshot of the message he allegedly received from Aiyaary's marketing team. It claimed that it was their marketing strategy to promote the film on Twitter. It asked the users to make noise about Sidharth Malhotra's Twitter blackout as much as they can. It also asked them to use the hashtag #SidsOffTheGrid.
However, the authenticity of the message is yet to be confirmed.
If it's really a marketing gimmick of Aiyaary team, then fans are clearly not flattered by it. They are slamming Sidharth Malhotra's antics left, right and centre. Here's how they're reacting.
If this is for Aiyaari's promotion then this man has seriously lost all the respect I had for him.

— siddhant. (@ignoreandfly) December 14, 2017
You don't worry. Inki movie Ki promotions chal raha hai

— Mishtu ᴷᴬᴸᴬᴺᴷ (@VarunsMish) December 14, 2017
If this is for Aiyaary, then he has lost all the respect.

— Abhii Singh (@AbhiiSingh1) December 14, 2017
This is not the first time that Sidharth Malhotra went over the top promoting his films. A few months ago, he was heavily criticised for promoting his film A Gentleman while North India was facing the repercussions Ram Ramim Verdict.  
Earlier this year, a South Indian actress Varalaxmi Sarathkumar pretended her own kidnapping to promote her film Sathya. However, the strategy backfired.
Aiyaary, directed by Neeraj Pandey, will hit the floors on January 26 next year. It features Sidharth Malhotra, Manoj Bajpayee and Rakul Preet Singh in lead roles.