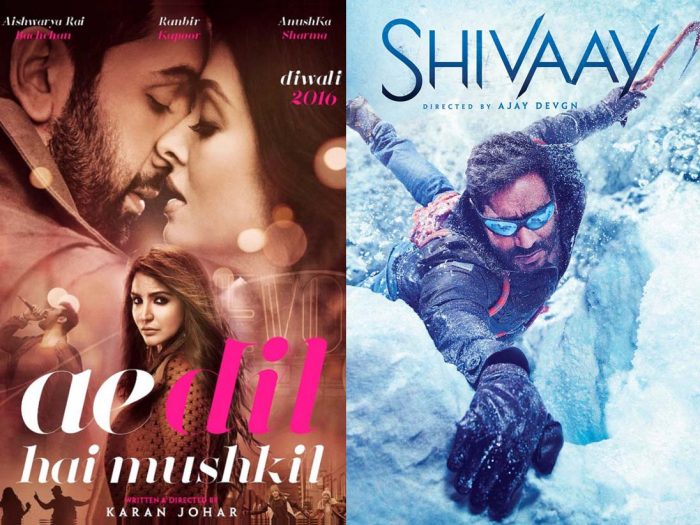 Looks like the KRK controversy was only the tip of the iceberg that lays beneath the clash of two big Bollywood movies 'Shivaay' and 'Ae Dil Hai Mushkil'. On October 28, it will be Ajay Devgn vs Karan Johar at the box office and obviously none of them want to lose the battle.
Both the players are pulling cards from their books to ensure they don't see defeat. After Ajay Devgn alleged that Karan Johar paid Rs 25 lakh to actor Kamaal Rashid Khan (KRK) to bad mouth 'Shivaay', the clash took a nasty turn. The controversy broke when Ajay released an audio clip of conversation between KRK and Kumar Mangat (Ajay's friend). KRK in the clip can be heard confessing about the Rs 25 lakh 'bribe'.
Now a new piece of information confirms that none of the makers of the movies will make it easier for the other. The two are quite adamant on releasing the movie on the scheduled date and go with the head on clash.
This has somewhere created a problem for the multiplex owners. With two big banners involved, the theatre owners don't wish to favour one and neglect the other.
"It's a tricky situation for theatres this Diwali. Both Ajay Devgn and Karan Johar are not only the directors but also the producers of the two films. We are being asked for optimum screens by both the production houses. It's not an easy situation for us, as it is being hinted that future projects of these production houses will be given to our theatre chain on the basis of how many screens we give to these two films," an insider was quoted by a leading daily.
Till now, 'Shivaay' is having the lead with Ajay joining hands with Eros International.
"Ajay Devgn has tied up with Eros International, so that gives him extra muscle to get as many screens as he wants. For Ae Dil Hai Mushkil, Karan Johar's Dharma Productions is going solo. No corporate partners this time," added the source.