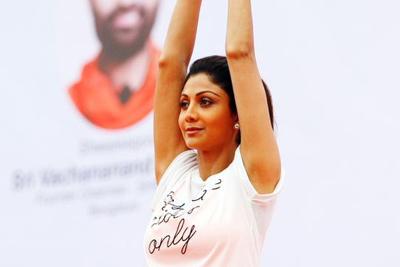 As we know how fond our Bollywood actress Shilpa Shetty is of Yoga. She shared some Yoga tips at an event in Jaipur yesterday. 
She performed Yoga at a programme at SMS investment ground and shared tips to keep the body healthy.
Accompanied by husband Raj Kundra, she asked the participants to practice Yoga daily in the morning and have good eating habits.
Also Read: You can now enjoy Shilpa Shetty's yummy & healthy recipes at a restaurant menu
She performed the Yoga on stage which was followed by the participants in the event. 
It seems like the 41-year-old actress relies on healthy diet and yoga for her perfect figure and health. 
Over the years, she has always been synonymous to health, fitness and a perfect body. Recently, Shilpa Shetty has ventured into a Youtube Channel featuring her fitness secrets. She features in the cookery and fitness videos on the Youtube Channel "Shilpa Shetty Wellness Series". In the videos, you can find the gorgeous actress sharing her fitness secrets and healthy recipes. 
A Bangalore-based restaurant has also included Shilpa Shetty special recipes in their menu. 
(With PTI Inputs)