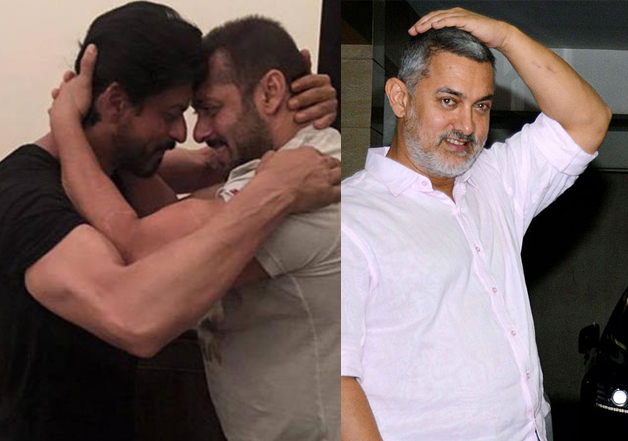 Superstars Shah Rukh Khan, Salman Khan and Aamir Khan have been ruling the Hindi film industry for more than two decades now. Their stardom is limitless and over the years it is now seen that they have outgrown a feeling of competition too. Now that all the three superstar Khans are in amicable terms with each other, all that cinephiles want is to know how spend their time when they are together.
Talking about this in a recent interview to renowned film critic Anupama Chopra, Shah Rukh said that it is easier for him to meet Salman than Aamir. He said while the Karan-Arjun of Bollywood take out time to spend time together, Mr. Perfectionist usually stays busy.
Shah Rukh said that when Aamir is working he follows an extremely strict routine.
"He is like '9 Baje Soo Jaunga, Main Nai Aaunga' so we don't meet that often," said SRK.
Well, this statement clarifies why we often see pictures of an impromptu meet between SRK and Salman, but rarely with Aamir.
Speaking about the possibility of the three Khans to work in a movie together, Shah Rukh accepted that they ponder over the idea. He said sometimes they wonder how much of a difference they can make by working together.
However, King Khan was quick to add that it not only good things they talk about but also about other things.
Citing an example of a conversation with the Bhaijaan of Bollywood, Shah Rukh said that they both feel they are extremely grateful for the love they received. He said that just when Salman said, "We are so lucky! God had given us so much. You know at our age, people are preparing themselves for retirement, but we are really fortunate," he felt a strange familiarity with the feeling.
SRK went on to say that if he meets Salman too often then people will think they are in a relationship and that is the last thing he wants. "'I am in a relationship with Salman' because that's the only thing left to be said or written about," said SRK.
On the work front, Shah Rukh will be next seen in 'Dear Zindagi' starring Alia Bhatt. The movie directed by Gauri Shinde is slated for a release on 25th November.