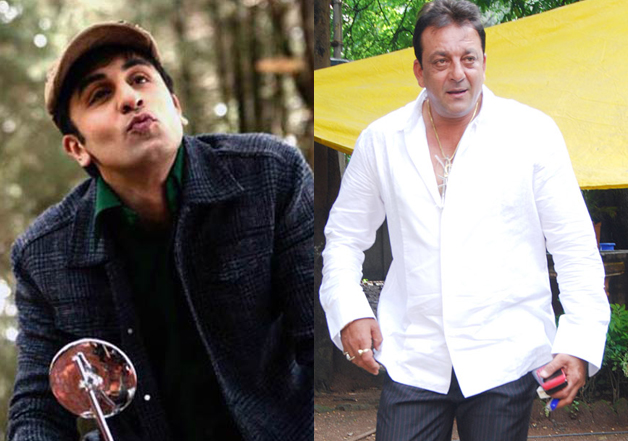 That actor Ranbir Kapoor will play Sanjay Dutt for the silver screen is not hidden anymore. But it seems that the older actor is unsure over his casting, and doled out few tips to RK for his Bollywood career.
According to a report in a leading daily, recently Dutt made fun of the Kapoor scion for doing movie like 'Barfi!'.
It all started when Ranbir Kapoor, Rajkumar Hirani and David Dhawan were at Sanju Baba's residence, gulping drinks and talking. After a few drinks, Sanjay told Ranbir that he would like to produce a movie for him titled 'Laddoo'. When a perplexed Ranbir asked why, Sanjay reportedly added "Yes, after that we will make films called Imarti, Jalebi and then Peda."
This retort by Sanju Baba was followed by an awkward silence and guests tried to change the subject. But, that was not it.
The 57-year old actor told Ranbir that he watched 'Barfi!' recently and couldn't believe he was cast for his biopic. He then advised RK to do hard-core action movies that have him holding guns and all.
He added that Ranbir should do 'macho' roles and sighted the example that actors like Ajay Devgn, Salman Khan and himself wouldn't have been around in Bollywood for so long if they didn't take up such roles.
"You have no connect with the masses and that is very important," Sanjay Dutt's statement was quoted by a daily.
During the entire conversation, Ranbir chose to remain silent. He, reportedly, didn't argue with Dutt or told him about the stardom he received over the years taking movies like Barfi.
Sanjay's awkward tirade came to an end when wife Maanyataa walked into the room and announced that dinner is ready.