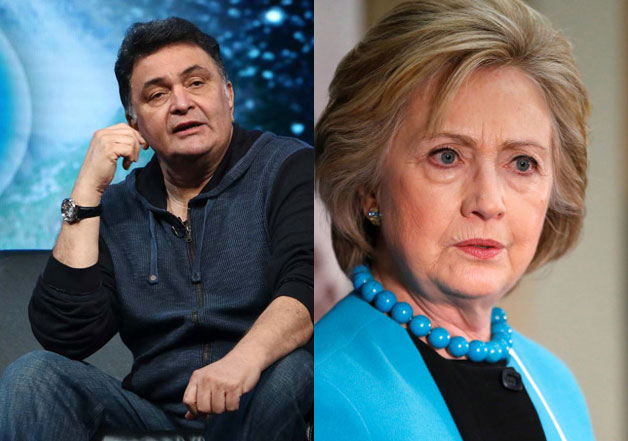 Actor Rishi Kapoor's presence on Twitter has a strange tendency of making it to the headlines. Be it due to his befitting replies to trolls or for voicing his opinion on a range of issues, Chintu Kapoor has a history when his tweets jumped from his timeline to the headlines.
While Rishi's tweets have been popular due his sharp sense of humour, this time he has stirred a controversy that he could well have avoided.  
Yesterday, Rishi's sense of humour landed him on a sticky wicket, one that drew severe criticism from several quarters.
It all started when Rishi shared a joke directed at the U.S. Democrat and presidential nominee Hillary Clinton. The tweet had a meme of Hillary, which was apparently shared with Rishi by actor Abhishek Bachchan. It featured Hillary coughing with a text on it, "Monica, is this right"?
Here is what he tweeted:
History being checked! Tx for it ABjr. If it wasn't RIGHT,it would have LEFT a bad taste pic.twitter.com/p6MmEnC5uh

— Rishi Kapoor (@chintskap) July 27, 2016
The reference in his tweet was to Monica Lewinsky, a White House intern with whom Hillary's husband and former US President Bill Clinton had an infamous affair, one that eventually led to him stepping down from his post.
Many thought Rishi's tweet was in bad taste. Users on the micro-blogging site said that Rishi is a misogynist while many termed it sexist and insensitive.
Here are the tweets by netizens who thought that the jibe on Hillary was in utterly bad taste.
as an American, this is not funny at all. Male chauvinism at its best!

— TXSA (@shardaH41) July 27, 2016
Imagine your family member in the same meme and you will find why it is misogynist

— Cher-Noble (@vivek17b) July 28, 2016
Jab guroor aur sharaab sar chad jaata hai, toh aisi harkat karna laazim hai, Rishi.

— NostradamusSez💖AIPC - INC✋ (@nostradamuspeak) July 28, 2016
Replace Hillary with Jaya. Change Monica to Rekha.

What will happen next? https://t.co/9XwhwuRyWz

— Bollywood Gandu (@BollywoodGandu) July 27, 2016
Having drawn flak, Rishi Kapoor took to Twitter again to clarify his stand. He said that those who did not like his tweet can delete him, just like he does to haters. He further clarified  that he had joked about Donald Trump too and so he did on Hillary.
Why are people so judgmental and moralistic on this platform? Don't like it,delete me,like I do. Fuck you! It's my prerogative to comment

— Rishi Kapoor (@chintskap) July 27, 2016
I commented on Trump and so I did on Hillary.You don't like it,delete me. My forum is a fun one. Lots tweet on me being drunk.That's sad!😪

— Rishi Kapoor (@chintskap) July 27, 2016