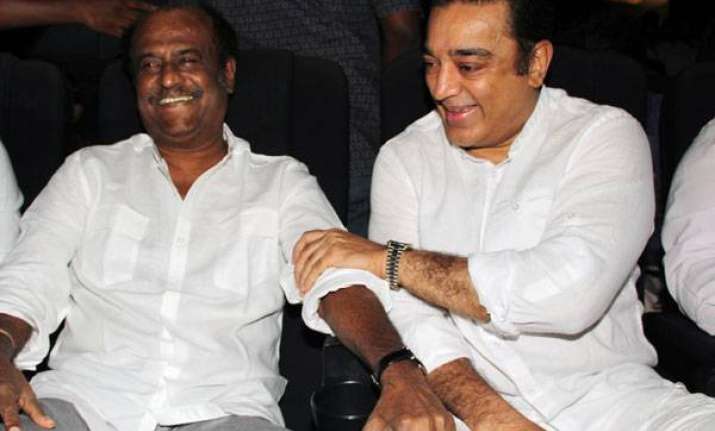 After Baahubali 2: The Conclusion, one thing that has kept everybody wondering is that whether Rajinikanth will enter politics or not. In such a heated scenario, Kamal Haasan has come to the forefront and expressed his opinion. The Hey Ram actor said that hewill not like to give any advice publicly to his friend Rajinikanth on latter's prospects of entering politics.
However, Kamal expressed his view on politics as a whole saying that the system is rotten. At a press conference, Kamal Haasan said that it was not the correct podium to discuss it. The veteran actor said there should be a different meeting to talk about it. Haasan said a comment could be made about it only during poll time. He, however, said there was nothing "wrong" or "different" in the Kabali star's remark that the "system was rotten".
Also Read: Rajinikanth's fans protest opposition to his political entry
Rajinikanth, while addressing his fans recently, had said the system was rotten though there were efficient political leaders. "The system is rotten. We should change the system. While the system was 'affected,' people's thought process on policy and democracy had changed and this needs to be addressed by one and all," he had said last week.
The Vishwaroopam star said Rajinikanth's comments on the system been 'rotten' was what "everybody says," and it was not different or wrong. He said "no comments" to Rajinikanth's "war remark," of "let us face the war when it comes," to his fans.
Asked about his view that only Tamils should rule Tamils, Hassan said "it can be anybody with that spirit.""I will not agree," he said indicating that he was open to people who were natives of other States being elected to the top post of Chief Minister in Tamil Nadu.
Asked if he will come to politics, he quipped he had come to politics "long ago," when he voted at the age of 21. On the changes he would suggest to the political "system," Haasan said it should not be seen as a profession or bout earning money. He was speaking to reporters on the trailer launch of Star Vijay TV's Tamil reality TV show  Bigg Boss . By hosting the show, Haasan will be debuting in television.
(With PTI Inputs)