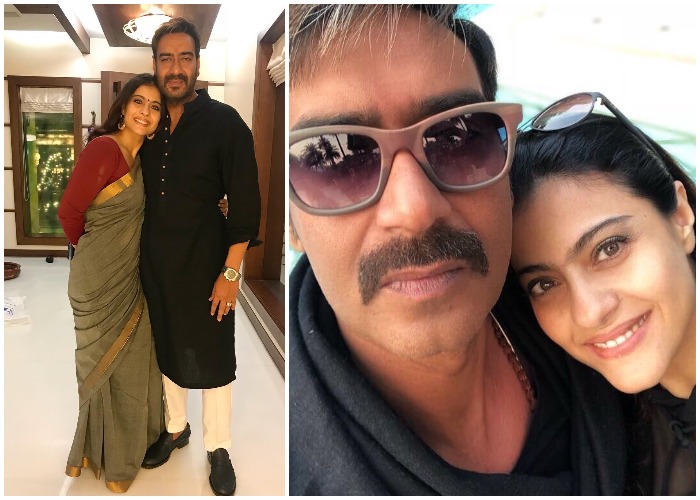 One of the most happening couple of Bollywood, Kajol and Ajay Devgn are celebrating their 19th wedding anniversary today. Their love story is nothing short of twists and turns just like any other Bollywood romantic film. It was complicated, as Kajol was seeing someone else when she grew fonder of her Pyar Toh Hona Hi Tha co-star. The actress spilt some beans on her love story with Ajay Devgn on a chat show some time back. She wasn't floored by Devgn's personality upon meeting him. In fact she used to think, "What kind of a guy is he, doesn't talk, smokes like a chimney."
They became friends as they did films together. Kajol happily friendzoned him while taking relationship advices from him. On the same chat show, she said, "It was in the middle of a shot of one of the films we were doing together, when I realized that Ajay was going to play a very crucial role in my life. Ironically, I was dating someone else at the time and used to often solicit relationship advice from Ajay!"
The critics used to dub them as an 'unlikely pair' as Kajol was a happy-go-lucky girl while Ajay Devgn was a man of few words. Their personalities were contrasting. She was a live wire while Ajay was an introvert. Many thought that this unusual pair won't last long. But here we are, talking about this impeccable couple on their 19th marriage anniversary.
The couple has been through a lot. There have been rumours of Kajol not getting along well with her in-laws and of Ajay having an affair with a younger actress. But Kajol never stopped trusting her husband. She brushed aside the baseless rumours like a perfect wife she is.
They irrefutably are one of the best pairs in Bollywood. We wish them a lifetime of togetherness and happiness. Many more such anniversaries to come.