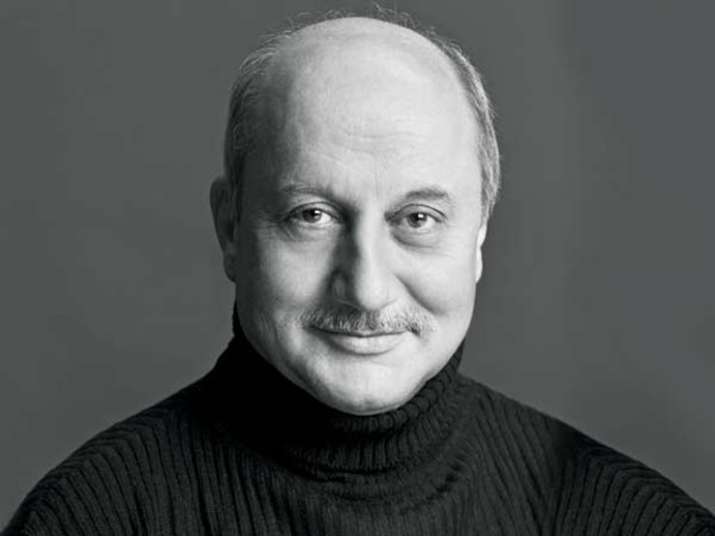 From being the comic relief in films like Darr and Ram Lakhan to be the actor who added the much-needed gravitas in films like Saaransh and Karma, Anupam Kher fought the age-obsessed film industry and made it on his own terms.
The actor who turned 63 yesterday, spent his birthday shooting in New York for an American series. He counted his blessings in a personalised message to his fans.
On my way to Heathrow Airport, London, to travel to New York. Looking forward to shoot for an exciting project. Jai Ho. प्लीज़ आप सब मुझे अपना प्यार और best wishes भेजो।🙏😍 pic.twitter.com/M0csPodoSE

— Anupam Kher (@AnupamPKher) March 4, 2018
In a video message posted on Twitter, Anupam narrated a short story about his life.
He said: "A few years back, in fact many years back, on March 7, Pushkar Nath and Dulari had their first child in a small hill station called Shimla. They nicknamed their son Bittu. Bittu worked hard and over a period of time, Bittu became Anupam Kher.
"Today I am in New York on my birthday, shooting for an American series, my 513th project. God has been kind to Bittu. So today I want to thank you all for your blessings."
Happy Birthday to me. Happy birthday to Bittu.:) #7thMarch #PushkarAurDulariKaBeta #ShimlaKashmiriBoy #GodIsKind pic.twitter.com/uRpBRm5ZX1

— Anupam Kher (@AnupamPKher) March 7, 2018
Several of his industry friends also took to social media to wish Anupam on his special day.
Many Happy Returns Of The Day @AnupamPKher Viewers of #AapKiAdalat still remember the manner in which you described what happened when you were born in a Shimla maternity hospital. ईश्वर आपको दीर्घायु और अखंड यश प्रदान करें. @indiatvnews pic.twitter.com/Egfc0UawKr

— Rajat Sharma (@RajatSharmaLive) March 7, 2018
Happy Birthday @AnupamPKher Sir
Wishing u a healthy long life full of success !!

— geeta phogat (@geeta_phogat) March 7, 2018
.@AnupamPKher Wish you a very happy birthday sir! Lots of love & respect, always! pic.twitter.com/iMaWl2Jn0q

— Suniel Shetty (@SunielVShetty) March 7, 2018
@AnupamPKher happy birthday pum pum 😘 love you loads ....

— Preity G Zinta (@realpreityzinta) March 7, 2018
Lovely memories with Anupamji from Jhoot Bole Kauwa Kaate😁 At my lowest moments YOUR advice lifted my spirits . Ever thankful Anupamji . Happy Happy Happy 🎈🎂 birthday 🍰 😄🌟🌟👍🌸🌸🌸 @AnupamPKher pic.twitter.com/a91FFoiE0n

— Juhi Chawla (@iam_juhi) March 7, 2018
Happy Birthday @AnupamPKher!!Time & distance won't stop me from celebrating you and our friendship 😊 Hope you have the best day! Come back soon. We miss you! pic.twitter.com/yi9ri5DUDV

— Anil Kapoor (@AnilKapoor) March 7, 2018
Wishing you a very happy birthday 🎂 @AnupamPKher Saab lots of love and respect always 🙏😊

— Jimmy sheirgill (@jimmysheirgill) March 7, 2018
Happy Birthday Anupam Kher ji।
जनमदिन मुबारक।
Best of luck for everything।
You are a truest artist and a friend। longgggg healthy life। @AnupamPKher pic.twitter.com/m4bqbyhxry

— Vikas Khanna (@TheVikasKhanna) March 7, 2018
Here's wishing a very happy birthday to @AnupamPKher. Happy Budday Maharazzi. Blessed to have you in our lives. Lots and lots of love.

— Abhishek Bachchan (@juniorbachchan) March 7, 2018
Happy Birthday My Favourite.... stay young.... have a great one @AnupamPKher https://t.co/CG8a6qxiwV

— Riteish Deshmukh (@Riteishd) March 7, 2018