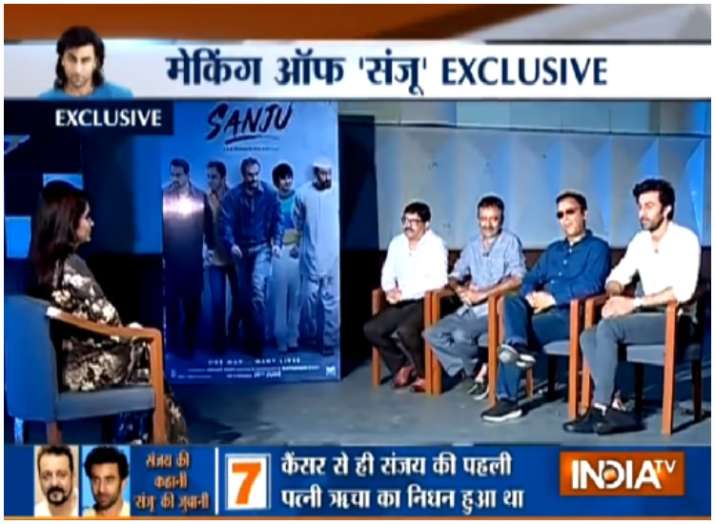 The much-awaited Bollywood film Sanju starring Ranbir Kapoor is all set to hit the cinemas this Friday. From serving jail time to getting involved with the underworld, from taking every drug there is to spend a few years at a rehabilitation center, Sanjay Dutt witnessed everything that a person could imagine and yet, he has lived through it all. Rajkumar Hirani, the director of the upcoming biopic Sanju, claims that this film would not be a propaganda machine for the actor's life. But his idea of presenting Sanjay's life has intrigued us all.
Now that Sanjay Dutt's life is all set to unfold on June 29, Sanju team Ranbir Kapoor, Rajkumar Hirani, Vidhu Vinod Chopra and Abhijat Joshi revealed interesting details about the film in an exclusive interview to India TV's Charul Malik. 
Q:(To Ranbir Kapoor) How attached were you to the character while playing Sanju?
A: I have always loved Sanju sir. But while playing Sanju's character, I discovered some things about his life that even I didn't know. These are things that are not known to anyone so far. And now that I've played this part my admiration towards him has multiplied to a hundred times.
Q: (To Rajkumar Hirani) Through this film Sanjay Dutt will surely be recalled of the memories from the past. What do you have to say about it?
A: Sanju Sir saw the film himself a few days back and when it ended he was very emotional and almost broke down. He said that the film had narrated his whole life story in just a couple of hours. I don't know what he might have seen as his perspective is surely going to be different from the viewers. It's his story.
Q: (To Rajkumar Hirani) There are so many legends in Bollywood. Why did you only choose Sanjay Dutt to make a biopic on? And why do you think Ranbir was the ideal choice?
A: I think it takes a lot of courage to be able to permit someone to narrate your story to the world. Sanju is still alive and working in films. It takes a lot of courage to be willing to see what the world thinks of your story. Not everyone is so strong as Sanju to be wanting to portray both sides of the coin.
Q: (To Abhijaat Joshi) How challenging was the script writing for this film?
A: It wasn't as tough as we thought it would be. Sanju had opened up himself for this film and his story was very unique. The only challenge was to bind the story together that took around eight to ten months. We had to analyze the interviews as well as the previous understanding we had of Sanju Sir.
Q: (To Ranbir Kapoor) How excited or nervous are you about the release of Sanju?
A: I have been working in Bollywood for ten years now and have done around fifteen films. I have never been this excited about any other film before. It's overwhelming that I'm a part of Sanju Sir's biopic which is directed by Raju Sir. Nevertheless, one does feel vulnerable 10-15 days prior to a film's release but I think it's a feeling of being alive.
Q: (To Vidhu Vinod Chopra) As the producer, are you in tension now that the film is ready to go on floors?
A: Honestly, I am least bothered by its release now. The filmmakers are only worried while a film is being written or shot or edited. Once it's totally made and ready to be shown to the public, there is nothing we can do. The only hard work is at the time when its made.
Q: (To Ranbir Kapoor) How did you feel when your father Rishi Kapoor had such a positive response about the trailer of Sanju?
A: It was indeed a very big moment for me. I was shooting in Bulgaria when Raju Sir mailed me a video of my father's reaction. It was really special and I worked better the next day. It feels very good when you get encouraged like this.
Q: (To Rajkumar Hirani) How did you collect and assemble facts about Sanjay Dutt and how did you make out what was relevant and what wasn't?
A: To begin with, we lent ear to Sanju's stories. He is a very good storyteller. After that, we crosschecked all that he had to say with the police officers, lawyers, journalists. Finally, we talked to his family members like his sister Priya, his friends Kumar Gaurav and Paresh. We also took reference from his videos and interviews and then started working on the film.
Q: (To Ranbir Kapoor) In the trailer you're seen saying that Sanju had 308 girlfriends. How far is this true in your case?
A: Not at all. I'm not even close to it. this is why when I first read the script I thought its all fake. But this is the beauty of Sanju's Sir's life. Every phase is very unique and unbelievable. You will feel it too when you see the film.
You can watch the full interview below.
Read More
Sanju Box Office Collection Prediction 
Sanju Movie: Ticket Price, Duration, Showtime, Book Tickets Online on BookMyShow