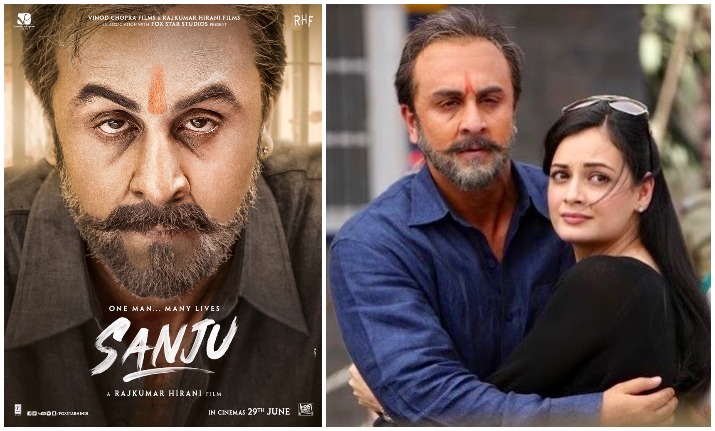 This Friday, every Sanjay Dutt fan is going to observe a remarkable phenomenon in the form of Sanju. Rajkumar Hirani is yet to serve another blockbuster on your platter after he stormed the box office with Aamir Khan-starrer PK. Sanju is highly-anticipated to bring some good business to Bollywood. First, it's Sanjay Dutt's biopic, who is one of the most controversial Bollywood actors of all time. Second, it's a Rajkumar Hirani film. Looking at the graph of Hirani's previous directorial ventures, Sanju promises a sure hit at least at the box office. We are expecting Sanju to collect at least 25 crore to 30 crore on opening day. Let's see how his previous movie fared at the box office.
Also Read: Sanjay Dutt throwback pics: A look at the journey of real life Sanju
Munna Bhai MBBS
This Sanjay Dutt-starrer medical drama struck the right chord of the Indian audience who somewhere down the line felt the similar lack of empathy in the medical professionals of the country. It managed to rake in jaw-dropping numbers of more than Rs 115 crores at the box office.
Lage Raho Munna Bhai
Sequel to the blockbuster movie Munna Bhai MBBS, Lage Raho Munna Bhai was also dubbed as a blockbuster after it crossed the coveted 100-crore mark at the box office.
3 Idiots
It's totally needless to say about how big a movie 3 Idiots was. Packed with an excellent star cast, this Rajkumar Hirani film opened the gates for the 300 crore club at the Indian box office.
PK
The film that raked controversy at the time of its release did an overwhelming business at the box office. It minted more than Rs 800 crore at the worldwide box office earning the badge of honour of being an all-time hit.
Also Read: Ahead of Sanju, a look at Sanjat Dutt's life in videos
Coming back to Sanju, which is Rajkumar Hirani's another offing after PK, the Ranbir Kapoor-starrer is expected to rake in Rs 25 crore to Rs 27 crore on its opening day at the box office. Owing to the huge buzz around the film and the popularity of Sanjay Dutt, the film is expected to earn huge numbers at its opening day. Now for the film to be a hit, it has to make a lifetime business of Rs 225 crore to Rs 230 crore. Hence, Sanju will be deciding factor whether Ranbir Kapoor is here to stay or not.
Also Read: Ranbir Kapoor's Sanju: Advance booking starts. Will Rajkummar Hirani continue his hit game?
Ranbir Kapoor's last venture Jagga Jasoos was made with a whopping budget of Rs 131 crore but managed to get only Rs 83 crore of its back. However, despite this massive box office bomb, the cine lovers have their trust vested on Ranbir Kapoor. No one doubts his calibre as an actor. He just needs a well-cooked recipe to prove his mettle in the industry.
According to the brand expert Harish Bijoor, Sanju will mark the beginning of the second inning of Ranbir Kapoor in Bollywood.
"Ranbir is a rare actor and while no one has ever doubted his acting skills, he desperately needs a hit film in his kitty to turn things around for him. Ranbir 2.0 will begin with Sanju. Going by initial reviews, Ranbir 2.0 should have a happier tale to tell," he said.
Also Read: Sanju: Ranbir Kapoor recreates a scene from Munna Bhai and it's just perfect!
To know if Sanju will be another Hirani wonder, we'll have to wait till 29th June when the film is scheduled to release. As per the reports, the final screen counts of Sanju might surpass 4400 making it the biggest Hindi film ever released.