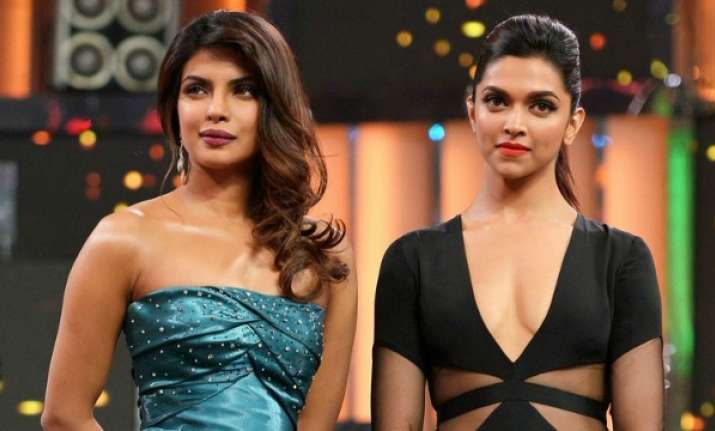 The rumoured tiff between Bollywood's leading divas Deepika Padukone and Priyanka Chopra have been talk of the town since quite a while now. It was reported that both are not on very friendly terms   owing to their quest to be on the top of the showbiz.
However, Deepika has dismissed the reports of a clash with PeeCee saying nothing has changed between the two.
Apparently, the reports of fallout between the two divas surfaced on internet soon after Deepika's Hollywood debut was announced. Deepika will be seen in 'xXx: Retunr of Xander Cage' opposite Vin Diesel.
In Bollywood, which is famous for the cat fights, it is believed that two leading actresses can never be at peace with each other as they are tend to get insecure with other's achievements. Apparently this was what happened between the Deepika and Priyanka, as their friendship turned sour after comparisons were being drawn between the two.
While both the divas are making Indian proud with the international achievements, a lot was written about their rumoured tiff.
But Deepika, during an interview to a leading magazine, has cited all the rumours as baseless and said that there isn't any competition between the two over having similar career paths.
The 'Bajirao Mastani' actress said that she and Priyanka had different beginnings of their career as Deepika was in school when the latter won her Miss World crown. Beside, their journey and path are also different from on another which leaves no question of a competition.
"What she wants from her career will be very different from what I want and that needs to be understood and respected", Deepika said.
The actress has, over the years of her career in the industry, proved her acting prowess magnificently and is now termed as one of the leading actress of B-town.
So when quizzed about the feeling of being on the top, Deepika said, that she isn't aware of it yet as she has been busy her work and aims at doing challenging roles.
Paudkone, who has been the new sensation in Hollywood lately, was also named as one of the ten highest paid actress in the world by Forbes. It was stated that though she owns a little less than her Hollywood counterparts for the movies, Deepika compensates that with several alluring endorsements.
To this the ' Piku' actress replied that she was never driven by money as it was never her ambition.. However, she does feel satisfied to see that her hard work is paying off so well.
"It makes me happy to know that when I focus on the things that I love doing and I'm so passionate about, it can result in something like this", Deepika added.
Deepika Padukone, who has completed shooting for 'xXx: Retunr of Xander Cage', will now be seen in Sanjay Leela Bhansali's magnum opus 'Padmavati'.
The movie also features Ranveer Singh and Shahid Kapoor in the key roles. 'Padmavati' has hit the floors on November 1 and is touted to release in December next year.