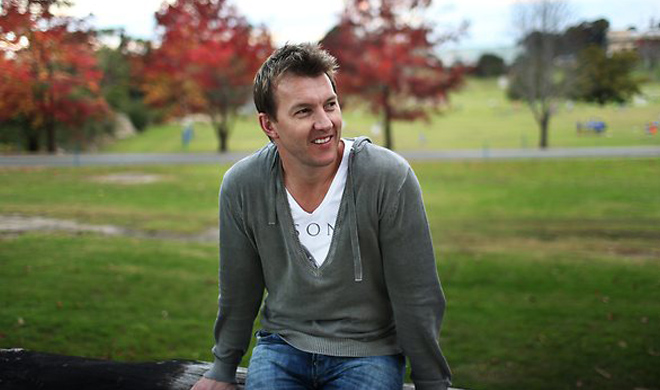 He sent shivers down the spine of several batsmen, but when Australian cricketer Brett Lee decided to score the best in his new innings of acting with "UnIndian", he initially found it difficult to act.
When the fast bowler was in the middle of his cricket career, he did not anticipate that he would act in films.
The 39-year-old Australian bowler is making his acting debut with Bollywood film Unindian, opposite Tannishtha Chatterjee. "The screening will be before the release of the film here in India. We have invited a number of cricketers and Bollywood stars. We have invited Shah Rukh Khan, Sachin Tendulkar, Preity Zinta and others," said Brett Lee.
Lee, however, won't be present during the screening here in Mumbai. "The feedback that we have got from Australia is amazing. People have thoroughly enjoyed the film. I believe people in India will enjoy the film as well."
"The person you see on the cricket field playing is different. I have been a movie buff, I have loved watching blockbuster films.
And now I had the chance to act in a film and I was excited about it," said Lee. It was initially difficult for Lee to act in front of the camera, but he was up for the challenge.
"It was nerve wrecking initially. I would love to be an all rounder in films, do everything - romance, dance, action - all," he said. "If you have passion and are willing to learn and try new things then you can enjoy something different." 39-year-old former cricketer is open to acting in many more films.
Anupam Sharma, director  of the upcoming film,  says that he spotted a hungry and restless artist in cricketer-turned-actor Brett Lee, who was keen for some good acting.
"You all know Brett Lee as a cricketer, but I have always known him as a performer; I have done television commercials with him and heard his songs. So I saw a restless artist in him, who was hungry for some good acting and good performance.
"Nothing could be better than that. And when he liked the script, he was the first-choice, just like how Tannishtha (Chatterjee) was our first choice as we had to take the film to festivals and on the international platform, she is perhaps the most popular actress." Sharma said on the sidelines of a promotional event for the film, at a mall here.
Anupam is an Australia-based filmmaker, who has previously directed the Australian shoots of films like Dil Chahta Hai, and Heyy Babyy among others.