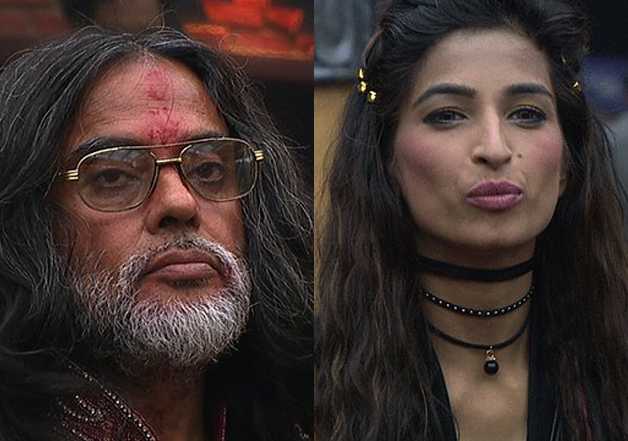 Seems the 'father-daughter' duo of 'Bigg Boss 10' house, Priyanka Jagga and Swami Om, is not leaving any stone unturned to make life of co-contestants full of trouble. But this time, they will have to face the wrath of the inmates for their habit of making personal attacks on other contestants.
Bigg Boss, this week, introduced a romantic luxury budget task with the duo as the wardens of the girls and boys hostels. As a part of the task, the boys of the house Gaurav, Manveer, Manu and Rohan were supposed to send love letters to girls. The girls, Bani J, Moanlisa, Nitibha and Lopamudra were asked to keep their letters safe in a box, away from the warden's eyes.
During the task, Priyanka will irk Mona by saying the ill things about the Bhojpuri actress. Addressing the cameras, Monalisa will tell Bigg Boss that no one should pass such remarks on her.
Manu Punjabi , on the other hand, will get into a war of words with Swami Om. The self proclaimed Godman will bring Manu's real life girlfriend Priyanka (Piku) in the conversation, making him outrageous. Manu will even try to pick up something to hit Swami Om, but will later decide against it. Manu will then ask Bigg Boss to call Swami Om in the confession room.
The inmates including Manveer Gujjar and Lopamudra Raut too will stand up against Priyanka and Swami Om.
Housemates come together in support of @TheManuPunjabi after #OmSwami & #PriyankaJagga make personal remarks about him & his family! #BB10 pic.twitter.com/99eTWo6jFa

— Bigg Boss (@BiggBoss) December 21, 2016
Here is a sneak peek to what you will see tonight:
Watch housemates reaction in this #BB10 #video as #PriyankaJagga & #OmSwami pass personal comments on them! pic.twitter.com/6T4JlgTj5e

— Bigg Boss (@BiggBoss) December 21, 2016
Only yesterday, Bigg Boss warned Swami Om, after he threatened to destroy Rohan Mehra's face. After calling him in the confession room, Bigg Boss asked Swami Om to mend his ways or else will be shown the exit door.
In today's episode, viewers will also see Swami Om getting punished for breaking the washroom door in a fit of rage. Bigg Boss will ask the infamous inmate to fix the door, and other inmates will draw pleasure from his punishment.
"Ye anyaay hain", complains #OmSwami while fixing the door he broke yesterday, while others have a fun time watching him! #BB10 pic.twitter.com/rQJnxvby9v

— Bigg Boss (@BiggBoss) December 21, 2016