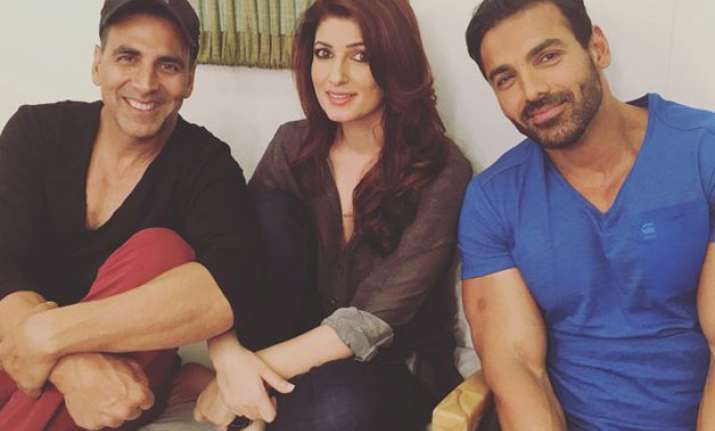 New Delhi: Bollywood star Akshay Kumar is known for being a family man. Someone who gives adequate time to his children and treats his wife as princess.
On Friday, the 'Airlift' actor once again proved that this perception of about him is not at all wrong.
Akshay, who had a free day on Friday, decided to sit at home while wife Twinkle Khanna had to go out for a shoot.
Later in the day, being a loving and caring husband, Akshay droped at Twinkle's shoot schedule with a lunchbox. He was also accompanied by his 'Desi Boyz' co-star John Abraham.
'Khiladi' Akshay Kumar just revealed the name of three women who drive him INSANE (See Pic)
Akshay took it to Twitter to share the image of the day and expressed that he felt 'domesticated'.
Twinkle, on the other hand, too posted about the 'role reversal' on her Twitter account along with a picture of hers from the sets.
She wrote, "Today I am at a shoot and the husband is at home baby-sitting #rolereversal". The couple is blessed with two children – son Aarav and daughter Nitara.
While Akshay Kumar did an amazing role reversal, he delighted the female fans too.
With two hotties Akshay and John on the sets, the temperature was set to rise. Twinkle aka Mrs. Funnybones, shared the amazing reaction of the girls from the sets.
"And all the girls on my set sort of fainted seeing these two amazing desi boyz !, she tweeted.
Guess! Akshay has kept everyone happy with his sweet gesture – wife, children as well as fans.
We wonder if he is inspired from Arjun Kapoor's character of 'homemaker' from 'Ki and Ka'.