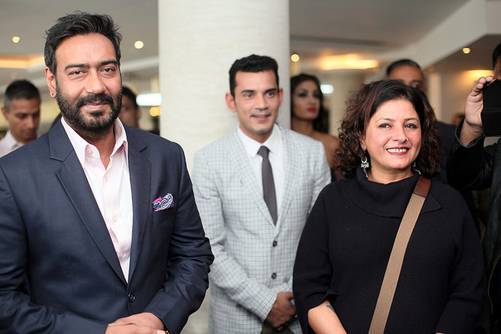 The director of movie 'Parched' has praised the co- producer of the movie Ajay Devgn saying that the movie would owes a lot to him. Leena said that Ajay is the backbone of the movie. She said that not only did he put in money for the movie, but was also involved in it right from the start.
"I think may be a film gets attention because of a star. It's Ajay's graciousness that he supported this project. He has not come on board the project now, but he has been a part of this right from the beginning. He is the person who gave us the money to start the project... He is the backbone of this project," Yadav told IANS.
"Parched", set to release on September 23, features Tannishtha Chatterjee, Radhika Apte, Surveen Chawla, Adil Hussain, Lehar Khan and Sayani Gupta.
Talking about the casting of the film, she said: "Tannishtha was a part of this film right from the beginning. When the film was in its pre-production stage, I met Radhika and called her home. I made Radhika and Tannishtha have an informal chat before going ahead.
"Between the three girls, I wanted very different personalities and different energies."
"Parched" highlights the way society sees a widow and a sex worker, and also touches upon marital rape.
On a related note, a proud producer Ajay had at the trailer launch said that the kind of awards 'Parched' has won is really amazing. The movie won many awards at the recently concluded Indian Film Festival in Melbourne.
(With IANS Inputs)