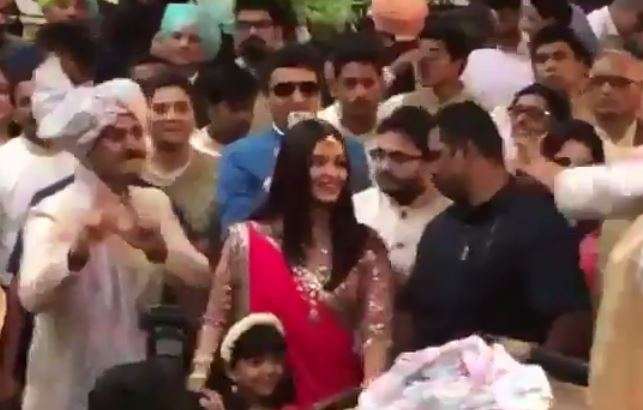 Recently, The Bachchans attended a lavish wedding and the pictures got viral on social media. Fans were swooning over the stunning pictures of Big B to Junior B and Aishwarya Rai Bachchan. While if those photographs weren't enough for you, we've got something even more special and surprising than that. We got our hands on a clip in which the mother daughter duo of Aishwarya and Aaradhya can be seen grooving to a Punjabi track. 
We can see, mother-in-law and veteran actress, Jaya Bachchan stood beside and was watching them with a smile on her face. You can also spot Amitabh Bachchan, Shweta Nanda Bachchan and Abhishek Bachchan in the video. Abhishek was seen doing some Bhangra moves to make his wife dance. Aishwarya and Abhishek who have worked together in movies such as Guru and Raavan got hitched in 2007. They became parents to a baby girl, Aaradhya in 2011. Check out the video here.
A clip of Abhishek and Aishwarya dancing with the baraat with Aaradhya pic.twitter.com/jQ54rcDWwJ

— AISHWARYARAIBACHCHAN Ⓥ (@TheAishwaryaRB) November 14, 2017
Earlier, Big B shared picture of Shweta and Abhishek with the caption, ''मेरे सर्वप्रथम ! मेरे अनमोल ! मेरे सब कुछ !!'' Check out other photos of The Bachchan family from the wedding.
T 2708 - मेरे सर्वप्रथम ! मेरे अनमोल ! मेरे सब कुछ !! pic.twitter.com/zHxMGoVyMs

— Amitabh Bachchan (@SrBachchan) November 11, 2017
❤❤❤❤❤❤❤❤❤❤❤❤❤❤❤❤❤❤❤❤❤❤❤❤❤❤❤❤❤❤❤❤❤❤❤❤❤❤❤❤❤❤❤❤❤❤❤❤
❤❤❤❤❤❤❤❤❤❤❤❤❤❤❤❤❤❤❤❤❤❤❤❤❤❤❤❤❤❤❤❤❤❤❤❤❤❤❤❤❤❤❤❤❤❤❤❤
❤❤❤❤❤❤❤❤❤❤❤❤❤❤❤❤❤❤❤❤❤❤❤❤❤❤❤❤❤❤❤❤❤❤❤❤ pic.twitter.com/3te4jJynbM

— Best of Aishwarya (@skv1993) November 11, 2017
November 14, 2017
On the work front, Aishwarya is currently shooting for her upcoming movie Fanney Khan, directed by Atul Manjrekar. The movie also stars Rajkummar Rao and Anil Kapoor. While, Abhishek is set to do a biopic on Sahir Ludhianvi helmed by debutante Jasmeet Reen