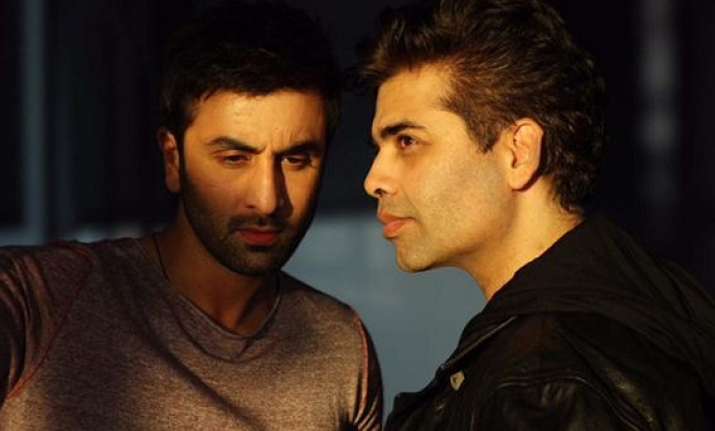 The thing about close friends is that they can say anything about each other without causing an offence. Something similar happened between celebrities Karan Johar and Ranbir Kapoor during the shooting of a song from 'Ae Dil Hai Mushkil'. In a behind the scene (BTS) video of 'The breakup Song', RK called close friend Karan a frustrated 50-year old virgin and the movie his biopic. On the actor's comment, all the director could do was smile.
The BTS video was shot by a leading news channel during the filming of the song 'The Breakup Song'. In the video, Karan asked Ranbir who he plays in the movie. To this the Kapoor scion answered that he was playing Karan Johar. Ranbir added that it was a biopic that KJo has made which is about unrequited love.
 

"He is a frustrated 50-year old virgin", Ranbir added.

 
To this Karan was quick to add,
 

"Firstly, I am 44 not at 50".

 
But Ranbir did not stop there. He took a jibe at Karan asking if the grand party the filmmaker threw 5 years ago was to celebrate this 50th birthday or not. All Karan could do was smile after RK's reply.
By adding that he loves Karan in the end, Ranbir showed that it was just banter between two friends.
The video also revealed some more information about the song. The song was shot in Mumbai and the sets designed in a way to give it a complete New York club feel. Also, Karan Johar was made fun on the sets because he chose a ribbed Dolce & Gabbana quilted jacket for the occasion. Actress Anuskhka Sharma hurt her foot during filming and sadly neither RK nor KJo showed her sympathy since both were busy in an intense conversation. 
'Ae Dil Hai Mushkil' also featuring Aishwarya Rai Bachchan and Fawad Khan will release on October 28.