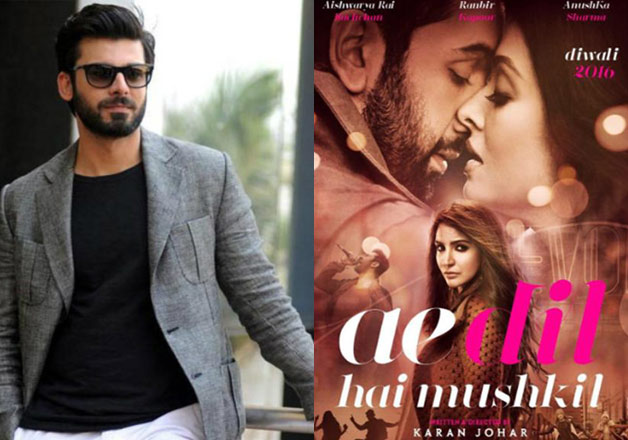 Promotions of Karan Johar's upcoming directorial 'Ae Dil Hai Mushkil' are all set to begin next month. As per the recent buzz, however, actor Fawad Khan has decided not to be a part of the ADHM promotions.
Fawad's absence, apparently, from the teasers and the videos of the movie had become a discussion in tabloid.
However, KJo has some valid reason fro exempting Fawad from the promotions of the movie.
Firstly, Fawad Khan is all set to become a father soon, as his wife Sadaf is expecting their second child and the delivery is said to be in next month. As a result, Khan wants to be with his wife at this time. The couple also have a seven year old son Ayaan.
Karan Johar, secondly, feels that Fawad's presence at the promotions might take away the limelight from the lead actor of the movie Ranbir Kapoor. Fawad, who interestingly, happens to plays an extended cameo in 'Ae Dil Hai Mushkil', is grabbing much more attention despite his 'blink and miss' appearances. Where as Ranbir, who will be romancing both the leading ladies Anushka Sharma and Aishwarya Rai Bachchan is somehow getting sidelined. In fact, KJo feels that the audience might get an impression of Fawad too being the lead actor in ADHM.
Moreover, KJo wants Fawad Khan's character to be a surprise for the audience, and wants it to be revealed after the release of the movie. This is why Johar is keeping Fawad Khan under the wraps, be it in the teasers or the promotions.
Interestingly, Fawad is not the only star from the ADHM cast who will be missing from the promotions. Actress Aishwarya Rai Bachchan too has kept her conditions for promoting the movie. She has mentioned that she won't be participating in every promotional event of 'Ae Dil Hai Mushkil', sicne she has to look after her daughter Aradhya.
In fact, the former beauty queen has also stated that she won't be going for any of the city tours for the promotions, since she can't carry her daughter everywhere.
With Fawad Khan and Aishwarya Rai Bachchan, reportedly, missing from the scene, looks like the 'Ae Dil Hai Mushkil' promotions will just revolve around Karan Johar, Ranbir Kapoor and Anushka Sharma.
'Ae Dil Hai Mushkil' is scheduled to release on October 28.