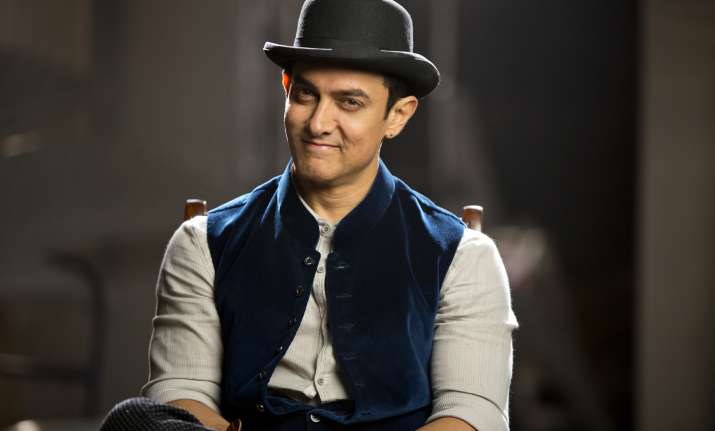 New Delhi: Superstar Aamir Khan has successfully completed an illustrious 50 years of his life. He sits on a throne from where he sees little to no competition. His contemporaries respect him, the newbies of Bollywood look up to him and even the directors who say 'action' to him trust his instincts more than theirs'.
The star made his acting debut as a child artist when he was merely 8 years old, in his uncle Nasir Hussain's film 'Yaadon Ki Baaraat'. But, it was his full-fledged debut with 'Qayamat Se Qayamat Tak' (1988), a highly successful tragic love story, which established that the next big thing of B-town has arrived.
At 51, after starring in a plethora of movies, most of them blockbusters, he is now about to narrate the story of a wrestler this year with 'Dangal' and there is no stopping for him. It will be a long journey before Bollywood sees another gem like Aamir.
As we wish Mr. Perfectionist a glorious birthday, we also tell you five incidents from his career which show that he is one of a kind. From voicing his opinions to setting new records, Aamir has done it all. 
Narmada Bachao Andalon:
In the year 2006, Aamir Khan shut his critics down when he said that he will not apologise for his stance on the Narmada River. He joined the Narmada Bachao Andalon, standing against the idea proposed by the Gujarat government to raise the height of the river. Aamir time and again, during that controversy, maintained that he is not against Gujarat getting more water, but he is worried about the tribals being misplaced from their homes. "I am saying exactly what the Supreme Court has said. I only asked for rehabilitation of poor farmers. I never spoke against the construction of the dam. I will not apologise for my comments on the issue," he had said.
No-No to Awards:
When the entire film fraternity chooses to be a part of an enthralling evening of an award show, Aamir Khan chooses to stay miles away. For a better part of his career, his fans thought that he had issues with popular film awards. This, however, turned out to be false when Bollywood's Khan royale in 2011, announced that he will skip National Awards too. "To me, the biggest achievement is getting a good response from the audience," he had told a section of the media. Many believe, that Aamir is only eyeing the Oscars and the way he gives gems like movies to audiences, he might just make it possible one day.
Satyamev Jayate:
Bollywood celebs started the trend of making their presence felt in the small screen as well. When most of the A-listers moved from silver screen to television, they chose either hosting quiz shows or judging reality shows. But, one has never known Aamir to be a path-follower. Rather, he is the path-breaker. He started 'Satyamev Jayate' where he used his star power to tell Indians about the problems impending the nation. He covered a multitude of topics from female infanticide to dowry, from road accidents to rape and anyone who saw Aamir's show understood that the right time to act is now.
Challenging himself:
Box office pundits speak a lot about 100, 200 or the latest 300 crore club. But, the torchbearers of all the three clubs were Aamir Khan's movies. On its release, Ghajini (2008) smashed box office records by being the first movie to earn Rs 100 crore. This record was broken by another Aamir Khan movie, 3 Idiots, the following year. His 2013 release Dhoom 3 became the third highest-grossing Bollywood film of all times in international markets as well as the fourth highest-grossing Indian film of all times. Following Dhoom 3, came PK in 2014 which became the first film to gross Rs 630 crore worldwide.
Not giving up:
Last year, Aamir Khan was caught in a huge controversy when he expressed his feelings on the intolerance debate. As soon as he mouthed the words that his wife Kiran Rao prompted that they should leave the nation, Aamir invited a lot of flak. Many labelled him as a disgrace to the nation but despite all this, Aamir did not let hatred get through his head. In his latest interview in Aap ki Adalat, he firmly maintained that his words were misconstrued and he never had any plan of leaving India. "India is my motherland, I was born here and will breathe my last here," Aamir had said.
These points just show that the fans who have showered immense love on Aamir have put their affection in the right place. Happy Birthday Aamir!