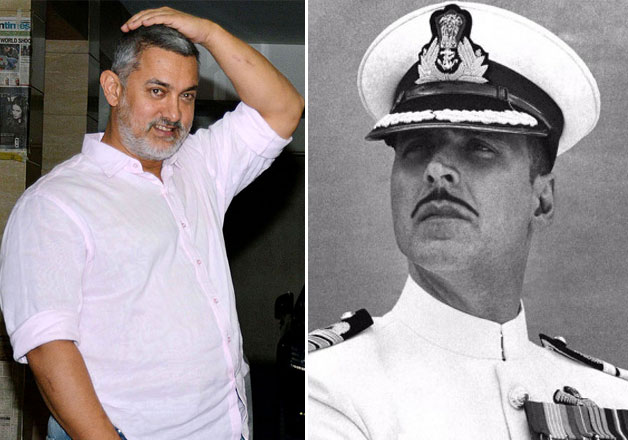 Akshay Kumar's latest release 'Rustom', which is based on infamous K.M. Nanavati case, has done commendable business at the box office. Khiladi Kumar's portrayal of naval commander Rustom Pavri has been highly appreciated by the audiences.
However, the latest media reports have something interesting to say about the movie. which served as the basis of this month's blockbuster.
According to a report published by a leading daily, superstar Aamir Khan was secretly working on his own film based on the K.M. Nanavati case. He had conducted extensive research into the infamous case and had even got Nanavati's widow Sylvia on-board for the project.
"Aamir was very eager to do a film on the case. He was collaborating with director Ram Madhvani on the same. After the director helmed the true-life account in Neerja effectively, Aamir felt Madhvani was the best filmmaker to piece together the intricate jigsaw of the real-life Nanavati case," the daily reported quoting a reliable source.
Interestingly, Mrs Nanavati too was keen on doing the project with Aamir.
'Rustom' Box Office report: 5 records shattered by Akshay Kumar's crime thriller in first week
"Yes, they met Mrs Nanavati. And she was enthusiastic about the project. After all, Aamir, who is known to be a superstar with a conscience, was doing it," added the source.
But, reportedly, the things went south for Aamir when two movies on the same subject were announced. First movie to be based on KM Nanavati case was Akshay Kumar and Neeraj Pandey's third collaboration - 'Rustom' while the second movie on same subject was 'Love Affair' announced by Pooja Bhatt and Soni Razdan.
The report further states that the team which was researching on the KM Nanavati case for Aamir Khan were left disheartened after seeing Rustom, as according to them it had very little to do with the case.
"The tone of our film was going to be totally different. It's one of the most important cases of our times and deserved to be brought to celluloid with some responsibility," the source revealed while talking about how Aamir's take on the movie.
Aamir Khan, reportedly, has put the project on hold and considering his obsession with perfectionism it's very unlikely of him to make the movie on the subject which is already being exposed.
It would have been interesting to see Mr. Perfectionist's take on the case but for now movie goers have certainly missed a big deal.