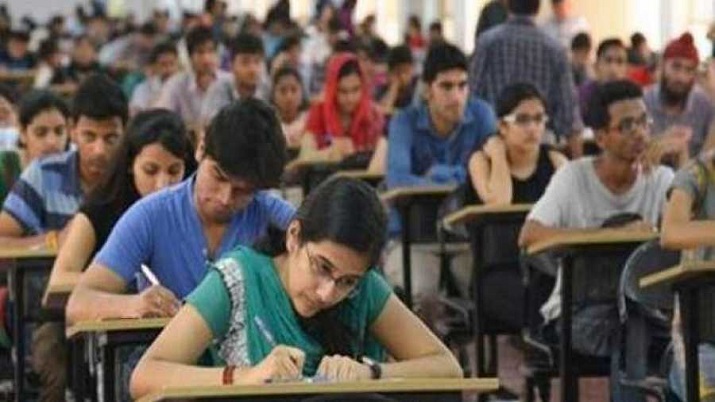 The Karnataka High Court on Wednesday heard a plea challenging the UGC guidelines mandating the conduct of final year exams. The petition was filed by students of Bangalore Institute of Technology. The matter was heard by Justice Sunil Dutt Yadav. Last week, the Court had issued a notice in the matter.
UPDATES:
2:12 pm: The matter will be next heard tomorrow, August 13.
2:10 pm: Bench to State Govt: Can there be relaxation of Quarantine rules for students coming from other states and also conduct Rapid Antigen Tests for all writing exams? We are having a hearing tomorrow also, you find out. 
1:59 pm: Bench to VTU - Any instructions from State Govt on relaxation of quarantine regulations for students? 
Bench: We will wait for one minute. State is logging in.
1:58 pm: Bhat - If the special exams can be conducted only after 5 months, can VTU give a provisional degree certificate? Can they take instruction on that?
Bench: Without exams, certificate will be difficult. 
1:55 pm: VTU Counsel: I will take instructions. It may be posted for tomorrow. 
Bench: We will have it tomorrow.
1:50 pm: Bhat - I can give 5-6 platforms used by other colleges for conducting online exams
Bench: Poses two questions to VTU
1) Why online exams cannot be considered when viva is done online? 
2) Reasonable Time limit for conducting special exams
These have to be placed on record.
1:47 pm: Bhat - NLS, Christ, etc have done it online. Creative solutions must be come up with. This is not ideal but considering the unprecedented situation, creative solutions are important. 
Even viva voce is conducted online. If they can conduct one exam via online, why not the other?
1:43 pm: Bench - Even if the technical aspect is considered, some kind of investment, time and energy will have to be put into for online exams. 
Bhat: I have come to Court not only problems but also with solutions. 
1:40 pm: Bench notes that they are not seeking for the postponement but for online mode.
Bhat: makes submissions - Internal exams were conducted via online mode for 95% of the students. 
This is a technical University, to come fwd and say that they don't have facilities, is not fair.
1:38 pm: Bench says there is a need to be flexible. University must step up and offer both options of online and offline mode of examination
1:37 pm: UGC Counsel says guidelines are provided for online, offline and blended mode. It is only advisory in nature. University has to chart out it's own rules. 
1:35 pm: High Court - But UGC Guidelines itself provides for online exams. Even in Nov-Dec, we don't know how the situation will be.
1:32 pm: VTU Counsel - The University will conduct exams in the month of Nov and December. 
At this stage, it is not possible for the Uni to conduct online examination (special exams). It is not technically feasible for us. 
1:30 pm: Hearing resumes. 
11:20 am: Bench - Special exams should be done within a short time, not after 3-4 months. We will pass over the matter. We will have it at 1:30 pm.
Bhat: May I make one submission? Stand of VTU is contrary. VTU says that for 95% students, internal assessment was conducted online. If this is the case, then conducting final exams should not be an issue. Court says the matter will be heard again at 1:30 pm. 
11:15 am: VTU Counsel: 70,000 students will be appearing for exam and 1 Lakh for backlog papers. Issue of distributing question paper is primary. Second issue is - Who will monitor these students opted for online exams. 
Bench: Can you conduct online and physical exams simultaneously?
11:12 am: They (Uni) will have to look for arrangement for offline and online. Let us hear the University now - Karnataka HC says
11:11 am: Bhat - 12 colleges affiliated to VTU allowed to conduct online exams. Atleast 10 of them are doing pure online exams, not even blended.
The exams will be conducted on August 25. 
11:10 am: Bhat - VTU has not said why it has decided to hold offline exams. The situation in Karnataka is really bad. Travel, stay are issues of concern. I will lose my chance for job, further studies etc. Therefore, conducting online exams in addition to offline should be made an option.
11:07 am: Advocate Bhat - He refers to Union Ministry of Human Resources guidelines for conduct of examinations. 
UGC has only said conduct of exams but it is up to each University on how to conduct it, many factors have to be considered. 
11:04 am: Bench says point of where UGC has made this option available. 
11:03 am: Advocate Bhargav Bhat argues that he seeks for conduct of exams via online mode. 
11:02 am: Petitioners' advocate says that he is only pressing for alternative relief as the main matter is currently before Supreme Court. 
11:00 am: Karnataka High Court begins hearing