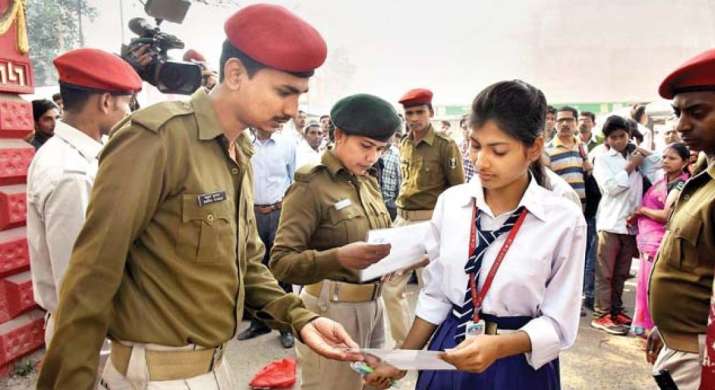 The Bihar Intermediate examination began today amid tight security across the state to ensure free and fair test. 
The conduct of cheating-free examination has been a big challenge for the Bihar School Examination Board (BSEB) particularly after infamous toppers scam two years back. 
The toppers scam in 2016 had sullied image of the state.  The investigation had found the toppers of Arts and Science streams fake and their results were cancelled.
The BSEB chief Lalkeshwar Singh and exam racket kingpin Bachha Rai were arrested among others in this connection.  The exam began today at 1384 centres across the state and the BSEB claimed it was free and fair.  
A total of 12.07 lakh students including 4.88 lakh girls took the exams on the first day of the exam which would come to an end on February 16, BSEB Chairman-cum-Patna Divisional Commissioner Anand Kishore told reporters here.  
All District Magistrates and Superintendents of Police have already been asked to deploy adequate police force at each exam centre to ensure cheating-free test.  As per the Board's official release, a total of 114 students were expelled from different districts of the state for using unfair means and other reasons.  
The highest 15 students were expelled in Saran district while one student was expelled in Patna district, it said adding that FIRs have been lodged against one each person in Begusarai, Saharsa and Madhubani district for writing papers for others. 
An FIR has also been lodged against an invigilator in Vaishali district for helping the examinee in using unfair means, it said. 
Asked about the incident of question paper leak in Nawada district that went viral during the day, Kishore asserted that it cannot be put into the category of 'leak' as it happened after two hours and 15 minutes of the examination.  Kishore said he has directed Nawada District Magistrate and Superintendent of Police to conduct an inquiry into the question paper leak matter. 
He also said that if any centre superintendent or staff is found involved in it, then he/she may be suspended and FIR will be lodged against the erring person. 
Meanwhile, the Patna district administration has named five examination centres as all women "model examination centres" for ensuing Intermediate examination. 
Only girl students will write their papers at these model examination centres besides these centres will have all women invigilators, magistrates, police officers, police force and all those involved in holding examination, Patna District Magistrate Kumar Ravi said.