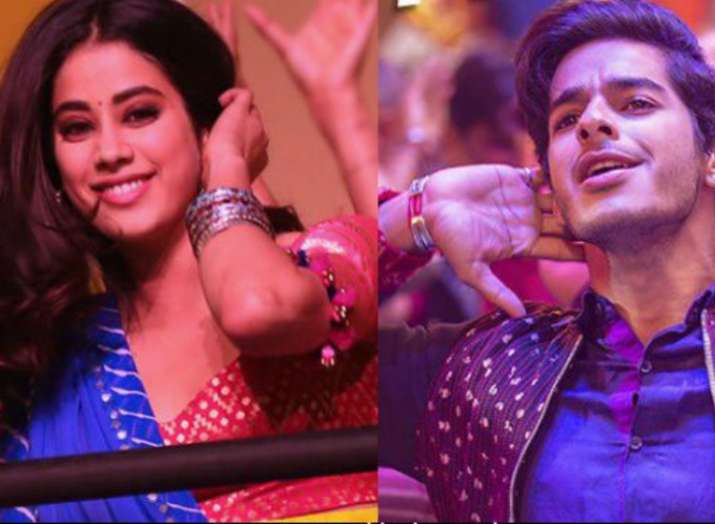 Dhadak Song Zingaat: The moment second track of Ishaan Khatter and Janhvi Kapoor starrer Dhadak popped on the internet, Tweeple went crazy over it. While some loved the energy it brings along, others were highly disappointed that it lacked the original Zingaat's charm. In one way or another, the song gave Netizens a reason to bring out the best of their creativity and bombard Twitter with the most hilarious memes on the new recreated version of the chartbuster track from the Marathi film Sairat, Zingaat.
Sairat v/s Dhadak memes have already been everyone's favourite since the start of time. While the new Zingaat has the same music composers as the original, same set of singers as the original, the only difference is in the visuals and the lyrics of the song which have failed to win fans' hearts. The Hindi song is penned down by Amitabh Bhattacharya.
Well,  because the song failed to recreate the charm, Twitterati reacted in the most funny way. While one Twitter user gave it a FIFA twist, another got Babu Rao from Hera Phera to shout, 'Mobile tod saale ka'. Here are all the best Zingaat trolls that will leave you in splits.
The Marathi lyrics still play in my mind! 🙄 #Zingaat pic.twitter.com/eyzGL27CS5

— FilterCopy (@filtercopy) June 27, 2018
Marathis after seeing bollywood's #Zingaat pic.twitter.com/f3bnll44b4

— Vishal 🇮🇳 (@singhsahaaab) June 27, 2018
What Karan Johar has done to #Zingaat song...#zingaatRuined pic.twitter.com/Oswn1yMqHi

— 👳 (@Chandorkar) June 27, 2018
#Zingaat from Dhadak vs #Zhingat from Sairat pic.twitter.com/MGuvznqFtk

— Rofl Gandhi 2.0 (@RoflGandhi_) June 27, 2018
every marathi after listening to #Zingaat pic.twitter.com/5woHR8wA7C

— Dr. Gill 2.0 (@ikpsgill1) June 27, 2018
1. #Zingaat from Sairat
2. #Zingaat from Dhadak#zingaatRuined pic.twitter.com/z4bwRin1Co

— Sagar (@sagarcasm) June 27, 2018
When someone says " #Zingaat from Dhadak is not really that bad"#zingaatRuined pic.twitter.com/vXfPqylVyj

— सीधे साधे Akshay (@Madman_00) June 27, 2018
Maradona dancing on #Zingaat #NGAARG pic.twitter.com/BUuhZ6QNUA

— Bollywood Gandu (@BollywoodGandu) June 27, 2018
Me after listening to Hindi #Zingaat :#ZingaatRuined pic.twitter.com/fE0cL9uyMU

— YUVRAJOPHILIC🇮🇳 (@Netzz_Rathi) June 27, 2018
Me : After listing to @karanjohar's #Zingaat version! pic.twitter.com/PLsuFEHORQ

— Rahul Ranadive (@rahool1089) June 27, 2018
Pic1-- Zingat from SAIRAT
Pic2-- Zingat from DHADAK #Zingaat #Dhadak #Sairaat #zingaatRuined #Dhadak pic.twitter.com/jF9bRJxb7i

— Abhishek Joshi (@itsmeabjoshi) June 27, 2018
When someone says Hindi #Zingaat is better than Marathi. pic.twitter.com/9eiL9iZGep

— Arun Gupta (@imarungupta7) June 27, 2018
Produced by Karan Johar's Dharma Productions, the film is directed by Shashank Khaitan and will hit the theaters on July 20.
Here are is the original Zingaat and the recreated Zingaat. Watch them and let us know which one did you like better?