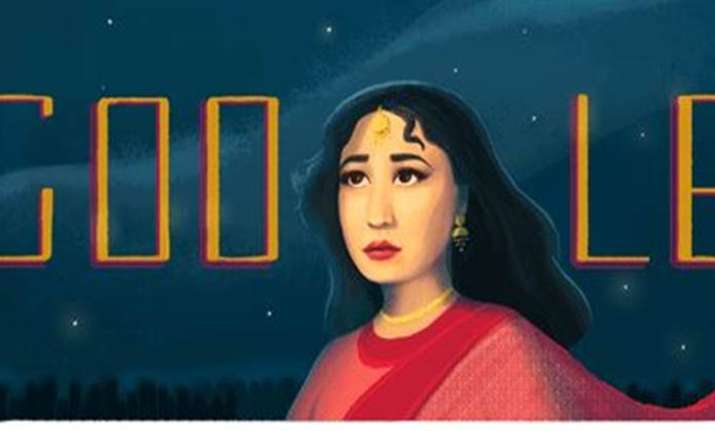 The beautiful face and expressive eyes of Meena Kumari have been captured in a Google doodle devoted to the late legendary actress Meena Kumari for her 85th birth anniversary on Wednesday. "As shown in the doodle, Meena Kumari captivated audiences with her beautiful, expressive eyes," according to the official Google Doodle page.
Born in 1933, Meena Kumari grew up on camera, lighting up the silver screen from the age of four when she was known as Baby Meena. She became a formidable actor in Indian cinema, appearing in more than 90 films during her 38-year career.
She portrayed strong yet vulnerable women who made their own way through life, although they were often devastated by romance. This gave her the epithet 'Tragedy Queen'. She came to be known for sailing through complex emotions on-screen with ease.
In her over three decade long career, she appeared in more than 90 films. However, her most memorable work was her role in Pakeezah. Even today, many refer to her as the most beautiful woman of the Indian film industry – besides Madhubala, of course – and rightly so. Mahie Gill, who has played a prominent role in Sahib Biwi Aur Gangster, is an ardent fan of the late actor. The actress had once said that it was a great honour for her to emulate Meenaji onscreen for her role in the film Gangs of Ghost.
Some of her memorable films include "Sahib Bibi Aur Ghulam", "Pakeezah", "Mere Apne", "Aarti", "Baiju Bawra", "Parineeta", "Dil Apna Aur Preet Parai", "Foot Path", "Dil Ek Mandir" and "Kaajal".
Meena Kumari was not only an iconic star of Hindi cinema, she was also a poet of great flair and delicacy.
She died in 1972 due to liver cirrhosis.
(With IANS Inputs)