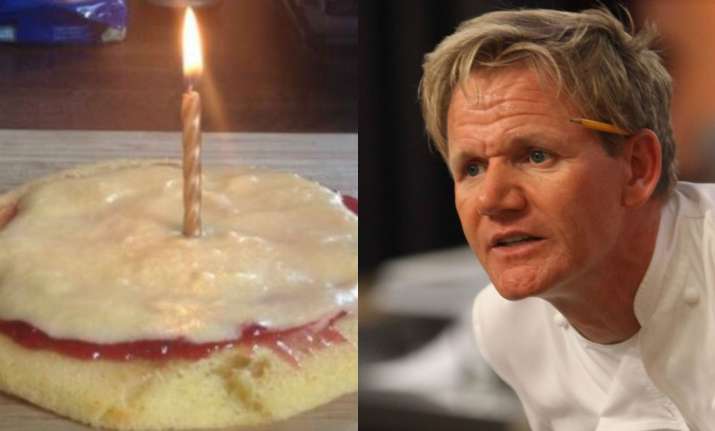 Multi-Michelin starred chef, Gordon Ramsay who is known for his brutal remarks on Twitter is again making news. The chef who doesn't like mincing his words is a sharp critic of food and doesn't even care of hurting anyone's sentiments. Can you believe he even trolled his daughter on her birthday?  Earlier, Twitterati shared snaps of their home-cooked foods asking Ramsay for his views and to no one's surprise, he gave out some blistering comments.
But its seems people enjoy getting roasted as yet again users have done the same. And this time, Ramsay was sharper than before. When a Twitter user asked for his opinion on his friend's chicken and rice, the renowned chef quickly responded, ''Straight from the crematorium.'' Another one asked his views on the cake baked at home and can you imagine what Ramsay could have said. ''Can't believe you puked all over it!'' That's his comment.
 ''Do you like mums scrambled egg,'' asked one user to which Ramsay replied, ''Looks like foam from inside a teddy bear !'' Enjoy reading.
@GordonRamsay what do you think of my friends chicken and rice pic.twitter.com/EeGWKSD6k0

— Skinnyy 🍕 (@Aka_skinnyy) November 9, 2017
Straight from the crematorium https://t.co/pH2Sq9t2y3

— Gordon Ramsay (@GordonRamsay) November 9, 2017
@GordonRamsay how's my rectangular quiche pic.twitter.com/GsUtnheslh

— a n n e (@pandannep) November 9, 2017
You've got a sink hole in the middle https://t.co/T0VXcvY0Xx

— Gordon Ramsay (@GordonRamsay) November 9, 2017
@GordonRamsay do you like mums scrambled egg pic.twitter.com/ZabqzGSXUg

— Connor.R (@CRickhuss72) November 9, 2017
Looks like foam from inside a teddy bear ! https://t.co/qHUhOAi46f

— Gordon Ramsay (@GordonRamsay) November 9, 2017
Can't believe you puked all over it ! https://t.co/pgTBSjS1zU

— Gordon Ramsay (@GordonRamsay) November 9, 2017