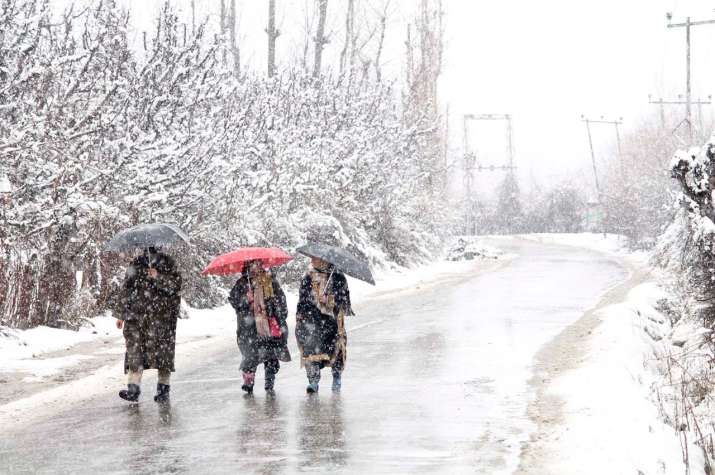 While the people down in Northern states of Delhi, Uttar Pradesh and Haryana are all set to welcome the onset of summers, Kashmir is still draped in a chilly blanket. On Wednesday, former Chief Minister of Jammu & Kashmir Omar Abdullah shared a video of fresh snowfall in Srinagar. He wrote: It's the end of March & it's snowing in Srinagar. The tweet has been liked by 2,100 people and retweeted over 200 times.
It's the end of March & it's snowing in Srinagar ❄️ 🌨 pic.twitter.com/GrPndpxWSY

— Omar Abdullah (@OmarAbdullah) March 20, 2019
Fresh snowfall in #Srinagar pic.twitter.com/cyZRV11nSG

— Sami Ullah (@samiullah_16) March 20, 2019
Finally in #Srinagar.
The first look of the beautiful mountains from the plane before mist took over completely.

So looking forward to #gulmarg.#familytravel #travelwithkids #indiatravel pic.twitter.com/e6fpIAaVf7

— Shweta (@zestinatote) March 19, 2019
Snowfall in Lalchowk srinagar #Srinagar #JammuAndKashmir #snowfall #photography #Weather @theindianexpres pic.twitter.com/8zoNkD2Q3S

— shuaib masoodi (@shuaibmasoodi) March 20, 2019
Talking about the weather conditions in Himachal Pradesh, Jammu & Kashmir, the winters still haven't left the mountain region. Keylong in Lahaul-Spiti district was the coldest in the state with a low of minus 4.2 degrees Celsius, while it was minus 0.6 degrees in Kalpa in Kinnaur district and zero degree Celsius in Manali. Keylong and Kalpa had snowfall in the past 24 hours.
Dharamsala, headquarters of the Tibetan government-in-exile, registered 8.4 degrees Celsius, while it was 6.1 degrees in Dalhousie. Bhuntar in Kullu district experienced 7 mm of rain, the state's highest.
According to the weather office, western disturbances will be active again on Tuesday, resulting in more snowfall and rain.