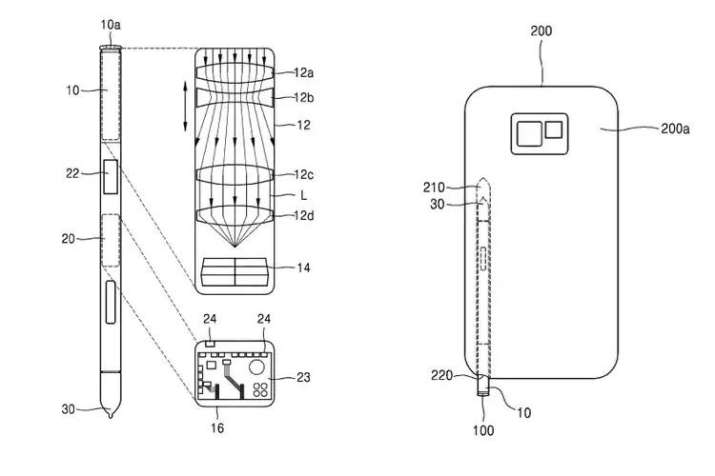 A new patent for Samsung S Pen has been spotted on the U.S. Patent and Trademark Office. The new Samsung S Pen patent focuses on S Pen doubling as a camera that could provide users with great optical zoom function in comparison to digital zoom.
Also, read: Xiaomi plans on launching a flagship-grade Redmi smartphone powered with Snapdragon 855 SoC
Furthermore, the patent points to the fact that smartphones generally are used to take photos wherein an 'optical zoom' function offers superior quality, but because of a slim design, smartphones are restricted to digital zoom. In order to get through with this problem, Samsung's new patent illustrates that the company could consider on putting a camera with optical zoom in future with S Pen on Note Smartphones.
With lots of innovations, since the S Pen was launched, the new button on the existing Galaxy Note 9 lets users click or take photos with their phone as well as control the side presentation, but given the Samsung's granted patent the next S Pen will come with a camera lens fitted in the upper chamber of the stick and a control key for managing the zooming effect.
Talking of lens, the new optical zoom could be included in at least one lens or even more. According to the given patent the S Pen could come with optical zoom, a control key, controller and image sensor. The granted patent also notes that it could provide a slot in more Samsung devices that could include the desktop display and future notebooks to place the S Pen in the device. The company had filed for this patent back in February 2017 that got granted today by U.S. Patent and Trademark Office.
Also, read: Samsung Galaxy A90 tipped to come with a pop-up front facing camera