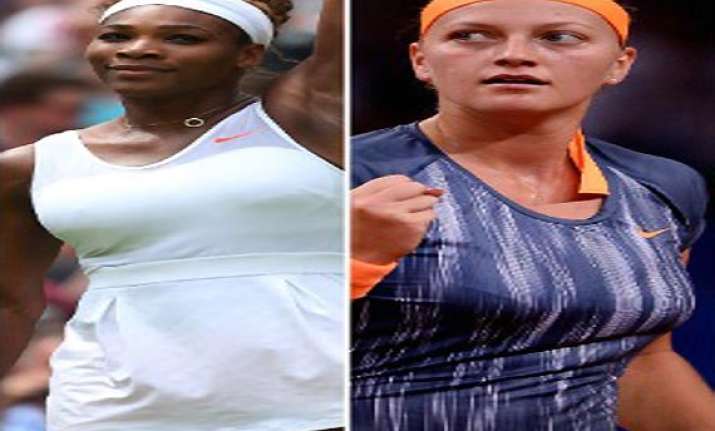 Istanbul: Top-ranked titleholder Serena Williams will face former winner Petra Kvitova in her group at the WTA Championships, which start Tuesday in Istanbul.
Sunday's draw for the event that brings together the top eight players in the world also put Agnieszka Radwanska and Angelique Kerber in Williams' Red Group.
Second-ranked Victoria Azarenka heads the White Group, which also includes Li Na, Sara Errani and Jelena Jankovic.
Third-ranked Maria Sharapova has pulled out of the event with a shoulder injury.
Williams, making her eighth appearance in the event, is looking to become the first player to defend the title since Justine Henin in 2007. If she achieves the feat, she would tie Chris Evert for third most WTA Championships with her fourth.
"It's a tough group. I have to be ready. That's the thing about this tournament and why it's so tough, you have to be ready from the first match on," Williams said.
Williams heads into the tournament with a career-best 10 titles this year and a 73-4 record.
Kvitova won the event in 2011 and is the only Grand Slam champion in the group apart from Williams.
"Both of the groups are very tough and I don't think you can choose anyone who you think is weaker," Kvitova said. "This means that it's going to be a big fight every day, every match."
Azarenka and Jankovic are former No. 1 players in the world and Li and Azarenka are also Grand Slam champions.
"It's the best eight players in the world. Anybody who is here is going to be a challenge," Azarenka said.
Jankovic has returned to the top 10 for the first time since 2010.
"Playing the championships, you are playing against the best players in the world so there is no easy match, so every match will be tough from the beginning," Jankovic said. "There is no warm up. There is no getting your rhythm. You have to bring your best performance from the start to the end."
Round-robin play goes from Tuesday to Friday, with the top two in each group advancing to Saturday's semifinals.