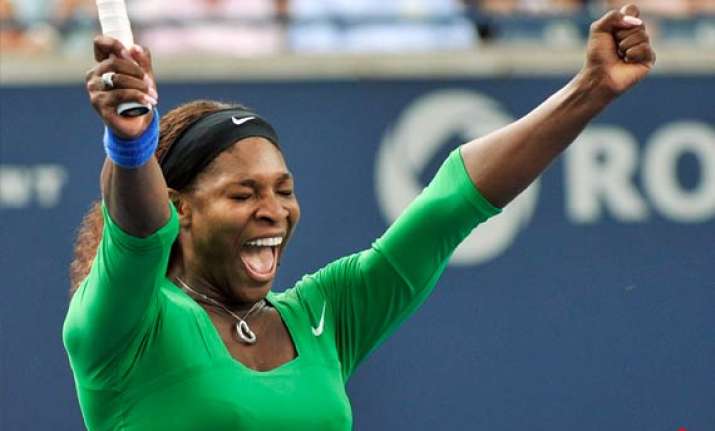 Toronto, August 15:   Eight weeks into her comeback, Serena Williams captured the Rogers Cup in commanding fashion Sunday, dispatching 10th-seed Samantha Stosur of Australia 6-4, 6-2 for her first Canadian crown since 2001.

The victory was just the latest step in a remarkable comeback from injury and illness that has seen her win two of the four tournaments she's played since being sidelined for 49 weeks.

"Being down the way I've been down and coming back, it was cool. Eight months ago if there was only one tournament I wanted to win, it was Toronto," Williams said.
 "For whatever reason, I really wanted to win this event. So seeing it come true is really cool. Just going through so much and being able to win is even more amazing."
Williams, who has 38 titles to her name including 13 Grand Slams, was sidelined just days after her Wimbledon victory last summer, first with a foot injury sustained when she stepped on a piece of glass in a restaurant in Germany, and then with blood clots in her lungs.

The American, who won the Stanford Classic two weeks ago, has talked since her return about a change in philosophy, focusing on just having fun. But she was all business Sunday in front of a nearly full Rexall Centre crowd.

The mighty Williams, wearing the emerald green shirt and black skirt she'd been sporting all week, had Stosur on her heels throughout the match with her powerful strokes. She broke the 27-year-old Aussie to go up 5-4 in the opening set with a blistering backhand, and would break her twice more in the second in the 1-hour, 17-minute match, winning in emphatic fashion with her ninth ace.

Williams was asked if she ever had any doubt during her long layoff about whether she would be able to return to tennis.
"Never. Never once. No," she answered.

She said she's looked to Kim Clijsters for inspiration. The Belgian retired to have a baby, then returned two years later to win the U.S. Open in her third tournament back.
"Kim did something really amazing," Williams said. "I just hope I can do half as good as she did. She won the Open two years in a row now. I'm hoping to get close to there, that title."

The former top-ranked Williams was unseeded in the Rogers Cup and is ranked just 80th in the world as she continues her comeback. She's projected to rise to No. 31 in the next rankings, and will definitely be considered a favorite at the upcoming U.S. Open.

"I consider myself a favorite to just do what I can do best, if that means winning the U.S. Open, obviously I want to," she said. "I went through a lot of things physically and mentally and emotionally, and going through so much, I'm just taking it one day at a time and just going with it."

Toronto rapper Drake was among fans in the almost-full Rexall Stadium, and Williams bristled in the post-match news conference when asked to respond to rumors about their relationship.

"Oh man, really?" Williams said. "So much speculation. It's unbelievable. Shocking, really. It's too much. It's really too much. We're really good friends. I guess you can't be too close of a friend nowadays."

The player was otherwise in a joking mood, chuckling about her age and the fact 10 years had passed since she won her other Rogers Cup title.

"Yeah, it's pretty shocking," she said. "It's like, 'Oh my god, 10 years! Am I really 26 now?' Like wow, it's crazy."'
Williams turns 30 on Sept. 26.


Williams' dad and longtime coach, Richard, also was in the crowd, he and wife Lakeisha holding Serena's two small, white dogs as she accepted her racket-shaped crystal trophy.

And while thunderstorms were forecast for the city Sunday, the weather held up.

Stosur lamented the fact the storm didn't hit during the match, which would have forced a break in the action.

"If you are losing, you kind of hope (the rain) does come to maybe stop and get a bit of a break," Stosur said.

The Aussie applauded the progress Williams has made in the eight weeks she's been back on the court.

"She makes it look very easy, and it's not that easy to just come back on tour and win two events in your first four tournaments," Stosur said. "I think she's playing very well. To win a tournament like this, you have to be playing well." AP