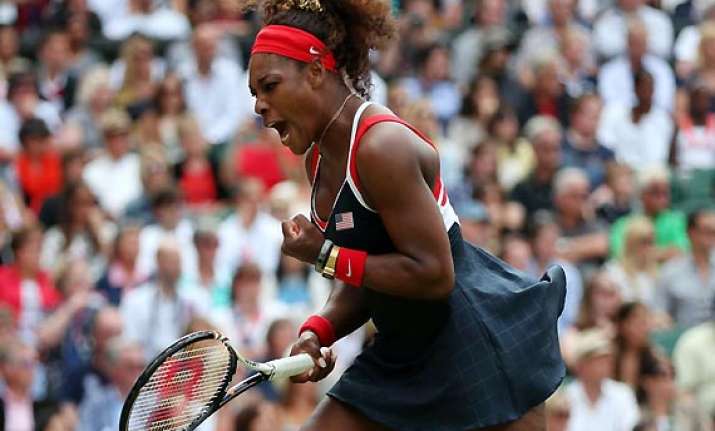 Toronto: Serena Williams cruised to victory in the Rogers Cup final beating Sorana Cirstea to capture her third title here.
Williams won 6-2, 6-0 in a match that lasted only 65 minutes on Sunday, reports Xinhua.
With three career Rogers Cup titles, Williams sits second behind Monica Seles and Chris Evert, who both have four Rogers Cup titles in the modern era. Her previous victories were in 2011 and 2001.
"For me, this is a big tournament. This is one of the big stops of the year," said Williams after the match.
The victory was also Williams' 54th career WTA title and eighth title of the year, matching her personal best of eight wins in 2002.
"I feel like I have played a lot of tennis this year, although I don't think I have overdone it," said Williams. "I feel like I have played key tournaments, played well in those tournaments."
In front of a capacity stadium, Williams overpowered her Romanian opponent and controlled the match throughout with her fast serves and aggressive second serves returns.
Williams never trailed the entire match, as she managed to break the Romanian' s first two service games, taking an early 3-0 lead in the first set before winning 6-2.
The second set was even more controlled by Williams, as she ended it in 27 minutes without dropping a game. Her serves were faster and more accurate, peaking at 196km per hour while only recording a single double fault.
Her 23-year-old opponent felt that Williams was playing on another level and she could not match her performance.
"She knows when to raise her level. She knows when it's enough to play and when she has to step it up. She serves very well the big points," said Cirstea during the post-match press conference. "It's never easy to play against her, but as I said, I think I could have done a better job today."
For Williams, she was pleased with her effort in the match but feels like she has more left in the tank.
"I knew that I would have to play better today than what I did last night," said Williams. "Definitely I can do a lot more. For me, it's always about constantly improving and never saying I did great and I can be satisfied."
The 31-year-old Williams will have over three months to improve her game and look to set a new personal record with her ninth title in a year. She will be the No. 1 seed as she goes for singles Grand Slam number 17 when the US Open begins in two week's time.
As the Rogers Cup singles champion, Williams wins 426,000 US dollars in prize money, adding to her career prizes of over 47 million US dollars.
Since her 2011 Rogers Cup victory, Williams has now won 11 consecutive matches in this tournament. She did not participate in last year' s tournament due to her participation at the London Olympics.
In the doubles final, the team of Jelena Jankovic and Katarina Srebotnik defeated Anna-Lena Groenefeld and Kveta Peschke in three sets to capture the women's doubles title.