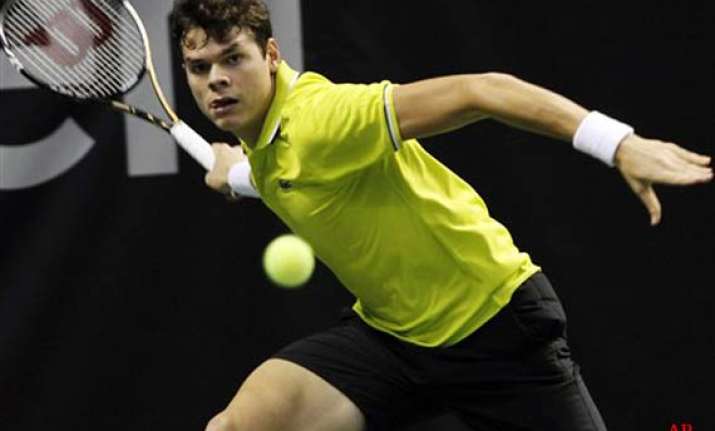 San Jose, California, feb 19 :  Defending champion Milos Raonic advanced to the SAP Open final by beating American Ryan Harrison 7-6 (4), 6-2 on Saturday.

The Canadian piled up 20 aces behind a powerful serve that reached 150 mph (242 kph) in the comfortable conditions of the indoor arena. Raonic relied on his serve to force a first-set tiebreaker and cruise past the 19-year-old Harrison after breaking for 3-1 in the second set.

"I think I got a few free points today," Raonic said. After Raonic's rapid rise stalled last year with a slip at Wimbledon, he's making his way back from hip surgery through a similar path. Raonic has dropped only two service games in two years at San Jose and his baseline game is only growing stronger.

Raonic will play the winner of Saturday night's semifinal between Uzbekistan's Denin Istomin and Frenchman Julien Benneteau. "It was all really new to me last year.
I felt it all flew by really quickly," said the 21-year-old Raonic. "Whereas now, going through all these things again and playing well and everything, I feel like I know how to deal with it all. There's not stress around it."

Harrison is still searching for his first ATP Tour final. He has lost three times in the semifinals on tour. Fresh off a Davis Cup debut that helped the U.S. sweep Switzerland in the first round last weekend, Harrison surged to the semifinals in impressive fashion.

He was the first teenager to reach the semifinals at San Jose since Andy Murray in 2006 and 2007, and he did it despite flying 6,000 miles across nine time zones to get here immediately after the Davis Cup tie and switching from clay to indoor courts.

Harrison beat Raonic in the third round at Indian Wells last year but couldn't touch the hard-serving Canadian in the climate-controlled conditions on Saturday.

Raonic rose to as high as No. 25 in the rankings last year -- the highest ever for a Canadian -- before his season derailed when he injured himself by falling at Wimbledon. He still earned ATP Newcomer of the Year honors after earning his first title at San Jose.

Raonic, who mimicked 14-time Grand Slam champion Pete Sampras' serve as a kid, now has another chance to match his childhood idol: He's one win away from becoming a back-to-back champion in San Jose -- something Sampras did with victories in 1996 and 1997.

"I think there are a lot of similarities. It's pretty fluid for both," he said. "I still think there's a lot more work I need to do to serve as well as him."