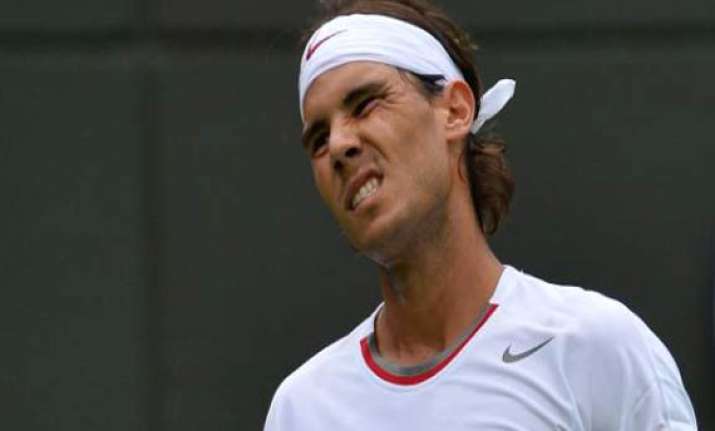 Buenos Aires: Spain's Rafael Nadal said Thursday he will not take part in next week's Copa Claro clay-court event in the Argentine capital because he has not been able to practice since injuring his back in last month's Australian Open final.
"I have to announce some news that fills me with sadness, which is that I won't be in Buenos Aires because - due to the back injury - I haven't been able to train since the Australian Open," the world No. 1 said in a video uploaded to his website.
"Also, I got a stomach virus this morning that has not allowed me to train and I've had to delay everything. We're three (sic) days away from the start of the tournament and, without being able to train a single day on court since Australia it's made it impossible for me to be adequately prepared to compete in a tournament as important as Buenos Aires," the 27-year-old said.
Nadal, who won an Australian Open tune-up event in Qatar before losing in the final of the year's first Grand Slam tournament to Switzerland's Stanislas Wawrinka in four sets, said he regretted having to make this "sad decision".
"I'm very sorry for all the fans, the tournament organisers who invited me and for myself because I was really looking forward to returning to Buenos Aires."
"Argentina is a country I really love and last year I had a really nice experience in Buenos Aires (where he played an exhibition match against world No. 2 Novak Djokovic)," the 13-time Grand Slam champion said.
"I hope to return to the country soon and once again I'm sorry."
Nadal said earlier this week that he was doing "well" in his recovery from the injury, which severely affected his serve and movement in the Australian Open final from the early part of the second set onward, and expected to resume his on-court training Thursday.
The Spanish tennis great lost in the quarterfinals in his lone appearance at the ATP Tour event in Buenos Aires in 2005, shortly before he won the first of his record eight French Open titles.
The Copa Claro tournament gets underway Monday.
Nadal is still expected to compete in another clay-court event in February: the new Rio Open event in Rio de Janeiro, which begins Feb 17.