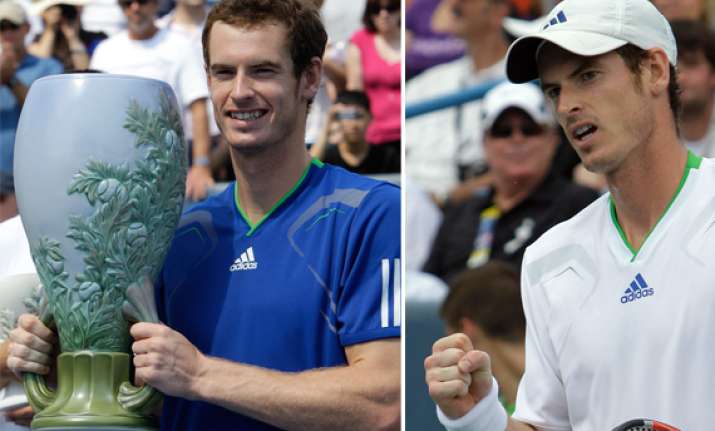 Cincinnati, August 23: World number four Andy Murray won the ATP's Cincinnati Masters title for the second time on Sunday as world number one Novak Djokovic retired injured while trailing 6-4, 3-0.

Djokovic conceded just his second defeat of a season against 57 victories.

He was hindered during the match by a sore right shoulder, a problem Djokovic had alluded to after his abbreviated victory over similarly ailing Tomas Berdych in the semifinals on Saturday.

"Obviously when he started to slow down his serve toward the end of the first set it was going to be tough for him," said Murray, who also won in Cincinnati in 2008.
"Sometimes things can warm up when you play, sometimes they get worse. I just tried to stay focused."

Djokovic, who said wear and tear was to be expected for a player going deep into tournaments week after week, admitted that his shoulder felt worse than it had earlier in the week.

But he insisted he would be ready for the start of the US Open on August 29.

"The good thing is that there is a week, eight days to the start of the US Open. So I think that's enough time for me to get ready."

Murray made the most of Djokovic's sluggish start to open the match with a service break.

Djokovic, who claimed a record fifth Masters title of the season last week in Montreal, managed to break back to knot the set at 3-3.

Murray broke back immediately, punctuating a baseline rally with a volley winner that left Djokovic looking baffled.

Djokovic's serve continued to slow and after he pitched a forehand into the net on set point he called for medical treatment, grimacing as the trainer manipulated his shoulder.

It wasn't enough, and Djokovic, barely able to reach for an overhead, called it a day shortly before a summer rainstorm swept across the court.

"I really tried," said Djokovic, who offered apologies to the fans and tournament officials for failing to finish the match. "Didn't make sense for me to continue."
"Not the way I wanted it to happen," Murray said of becoming just the second man to beat Djokovic in 2011.

The Serbian had won 16 straight matches since that lone defeat, to Roger Federer in the French Open semifinals on June 3.

"I had a chance, served for the match against him in Rome and lost -- that was a tough one for me. It's nice to win, but I'd rather beat him in three weeks' time," added Murray.

That time frame would have Murray facing Djokovic across the net in the US Open final in New York, and the Scotsman said his week in Ohio had encouraged him heading into the final Grand Slam of the season.

"I've hit the ball better and better as the week went on," he said.

Murray, 24, claimed his second title of 2011 after his victory on the grass courts of the Queen's Club.

His only other finals appearance was his Australian Open loss to Djokovic.