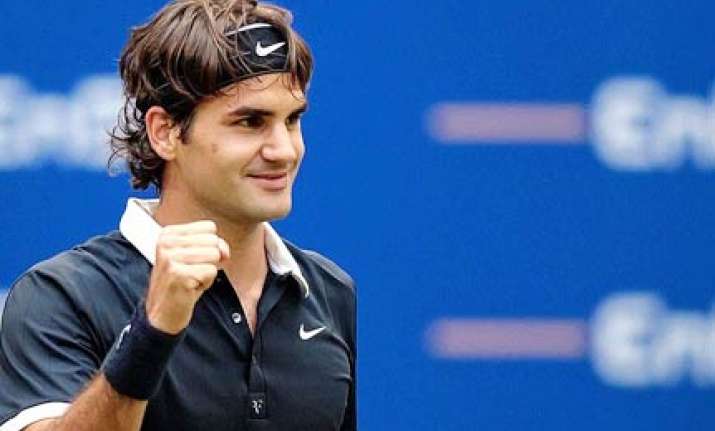 Top seed and six-time champion Roger Federer narrowly averted a first-round upset at Wimbledon on Monday (21st June) after a hard-fought, five-set victory (5-7, 4-6, 6-4, 7-6(1), 6-0) over Colombian Alejandro Falla.  Falla, ranked 60th in the world, took the first two sets before Federer turned the match around to grind out the win.  
Seventh seed Nikolay Davydenko was also tested in a five-set thriller, eventually overcoming the big-serving South African Kevin Anderson by nine games to seven in the deciding set.
In the women's draw, there were straight-set victories for US Open champion Kim Clijsters and fourth seed Jelena Jankovic.
The opening day of the 124th edition of the Wimbledon championships, and the traditional opening match on Centre Court featured defending champion and top seed Roger Federer.  
The man expected to be his first victim was 26-year-old journeyman Alejandro Falla from Colombia.  Ranked 60 in the world, Falla has yet to win a tournament on the main men's tour, but he stunned everyone by keeping Federer off balance to break for a 6-5 lead in the opening set.  
Cool and composed, Falla duly took the set by seven games to five, and continued to outplay the 16-time Grand Slam champion.  Coming to the net and repeatedly winning points on a wayward Federer backhand, Falla was playing the best tennis of his life, and he was rewarded  with a two-set lead.
There have been signs of slippage in Federer's game this month, with a quarter-final exit at the French Open and defeat at the hands of Lleyton Hewitt at the Wimbledon warm-up tournament in Halle.  
But Federer revived his faltering game to take the third set 6-4, and then pounced on the first indications that Falla's game might be unravelling.  When Falla failed to serve out the match at 5-4 in the fourth set, Federer upped his game and ran away with the tie-break later on in the set.  
Falla managed to win just one point in the breaker as his chances of a great Wimbledon upset faded away.  The disconsolate Colombian could muster little resistance in the final set.  Having blown his big chance, he allowed Federer to surge ahead.  
The six-love scoreline in the decider suggested that Federer was at last finding his championship form, but it was a close shave for the man seeking a record-equalling seventh men's title.  
Russia's seventh seed Nikolay Davydenko also survived a first-round grilling and, like Federer, had to overcome a two-set deficit.  Kevin Anderson of South Africa put up spirited resistance with 36 aces before Davydenko came through 3-6, 6-7, 7-6, 7-5, 9-7.
On to the women, and despite being sidelined since late April with a left-foot injury, eighth seed Kim Clijsters celebrated her first appearance at Wimbledon since 2006 with an easy 6-0, 6-3 victory over Italian Maria Elena Camerin.  And Jelena Jankovic, the fourth seed, dashed British hopes with a 6-3, 7-6 win over 16-year-old Laura Robson.  
Jankovic, a former world number one, is still seeking her first Grand Slam title, but has never made it beyond the fourth round at Wimbledon.  AP