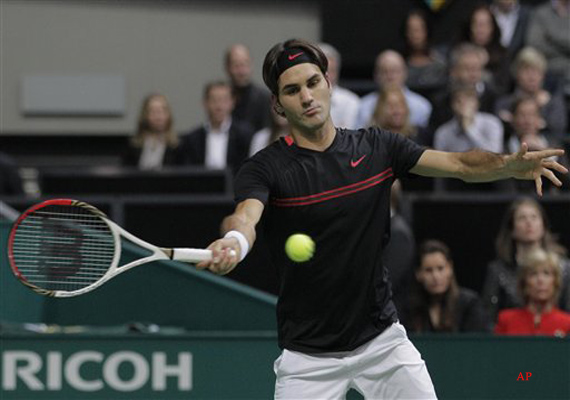 Dubai, Feb 27: Roger Federer blames a loss of confidence for failing to add to his record 16 Grand Slam titles in more than two years.

The former No. 1 last won a major title at the 2010 Australian Open but denies his form has been in decline, instead attributing that to "a bit of confidence not on my side and on my opponent's side."

"I've had some tough losses over the past couple of years," Federer said, without nominating any specific matches.

Federer is in the United Arab Emirates along with No. 1 Novak Djokovic and fourth-ranked Andy Murray to play in the Dubai Championships, which start Monday.

Having broken Pete Sampras' mark of 14 Grand Slam singles titles, Federer missed out on breaking the American's 286-week reign at No. 1 by a single week.
Now ranked third, the Swiss star has no realistic chance of the record with Djokovic so dominant.

"It would be great having that record but my life is very much OK without it, too," Federer said. "Pete is a good friend and was an amazing champion for our game.
I don't need to break every record he has. I came so close and I could have chased it if I had wanted to. I didn't choose to."

Federer still believes he can return to No. 1, however, noting that he has won three titles in the past four months — the most recent in Rotterdam earlier this month.

"I feel if I play really well until the U.S. Open, then obviously there is a shot. But then again there is a shot for about 10 players," Federer said.
"I am aware I'm not the only one. But I feel like I'm on a good run right now. I've won a lot of tournaments in a short time, which gives me a lot of confidence."